We arrived in Xi'an at 7.45am on Friday (slightly ahead of schedule. Good job we had set an alarm for 7am!). It wasn't the best nights sleep as I could hear the train screeching on the tracks all night, although I did like the gentle rocking as I slept. But still, I was refreshed enough and had enjoyed the trip. Heading out of the station we noticed two things: 1)It was very quiet and peaceful and 2) The pollution was horrendous!
We quickly got a taxi and I showed him the hostel address (in Chinese characters) that I'd saved on my ipad (I took a screenshot of the Chinese characters from the website).
We picked our Hostel, the Han Tang Inn, from our Lonely Planet guide and had pre-booked a private room with bathroom. We were really impressed with the cute and cosy room and it was an absolute bargain. The room was also nice and quiet, thankfully this was not a party hostel.
Our room was ready but we just ditched our bags and headed straight off to see the Terracotta Warriors. There is a cheap bus that goes from the train station to the Terracotta Warriors (an hour outside of Xi'an) but we decided to hire a taxi for a half a day. We weren't sure if the buses were running on New Years Day (Xi'an felt very quiet) but we also wanted to see the Tomb of Emperor Jingdi (not to be confused with the Tomb of Qin Shi Huang which is closer to the Warriors site).
We explained our plans to the taxi driver in basic Mandarin and said how many hours we would like. We set a price (we paid half at the Warriors site and the other half at the end of the day) and off we drove, through surprisingly quiet and empty roads and gazing out at the horrific pollution.
On arriving at the Army of Terracotta Warriors, we were approached by several English speaking guides. I, unfortunately, am always suspicious of random people approaching me, but these guides have badges and are museum officials it seems. We agreed to hire a guide (I recommend it as there is actually very little written information at the Warrior site) and were given a New Year's discount!
I was more than a little pleased to find that there was practically no one else around for the majority of our time there. I had hoped this would be the case- my theory being that most Chinese people would stay home on the first few days of the holiday. Luckily, this was the case and we had wonderful, unobstructed views at all times.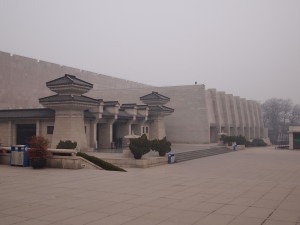 The sight is impressive and I enjoyed it much more than I thought. I went without expectations, as I have seen so many pictures and thought it wouldn't live up to the hype. But in real life, I found it fascinating. The soldiers are life size and, as far as we could tell, they really do all have different faces. Facebook even tried to get me to tag them all when I uploaded a photo. Having the guide really made a difference. It was interesting to hear how a local farmer (whom we actually saw later. He sometimes goes to the museum and you can get his autograph. We passed on that.) discovered the sight when digging for a well. Imagine if he had chosen a different spot for his well and they had never been discovered!
There are 3 pits at different stages of excavation. Some warriors have even been covered back up to protect them. Apparently, they were painted but the air made the paint quickly fade away.
Pit 1 has the most warriors and you'll have seen photos of them all lined up. Pit 2 is mostly not excavated, but there are some soldiers on display so you can get a close up look. Pit 3 is the smallest pit but has a lot of headless soldiers in it. All pits are interesting but our guide showed us pit 2, then 3 then 1, which was a good choice.
Next, we headed on to the Tomb of Emperor Jingdi. We wanted to go here as, according to our guide book, it is the most underrated highlight of Xi'an. We agree. There is a museum and some other sections, but we headed straight to the excavated tomb. After being told to cover our shoes with blue shoe covers, we headed inside. There are many narrow pits here containing hundreds of different pottery artefacts, such as animals and eunuchs! What makes this tomb visit different is that some areas have a glass roof/floor, so you can walk right above the artefacts and get a good look! We enjoyed the visit and definitely think it is a worthwhile add on to your Terractotta Warrior trip. The problem is that is is far away from the warriors and the public transport is not so good. But it is available (I've googled) or it's easy in a taxi. It is not near the warriors so you don't have to do it on the same day.
After returning to Xi'an, we set about organising our trip to Hua Shan- a mountain a couple of hours away from Xi'an. More about that later. For the rest of the evening we relaxed at the hostel.