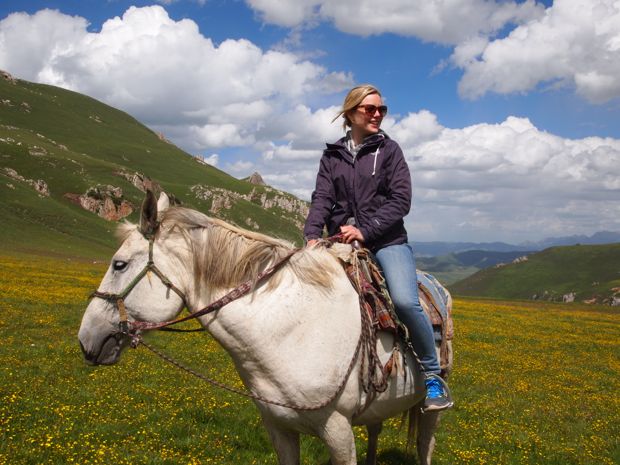 Horse riding in the grasslands was high, high, high up there on the list of things I wanted to do during our travels in the Tibetan areas.  I certainly didn't expect it to result in me hiding in a yurt and being terrified to go to the toilet at night! (Spoiler: it was still amazing!)
Justin and I had arranged our trek with the Tibetan Horse Trekking Company, prior to arriving in Langmusi. There are a couple of places offering horse treks in Langmusi, but we picked the Tibetan Horse Trekking Company after reading so many good reviews. The horses we were given were lovely (especially mine, although I might just be biased). "I love you horse!" I told her many times in Mandarin (which was  stupid as the horse probably a) spoke Tibetan and b) I was most likely using the incorrect tone and saying something else instead of horse..but still!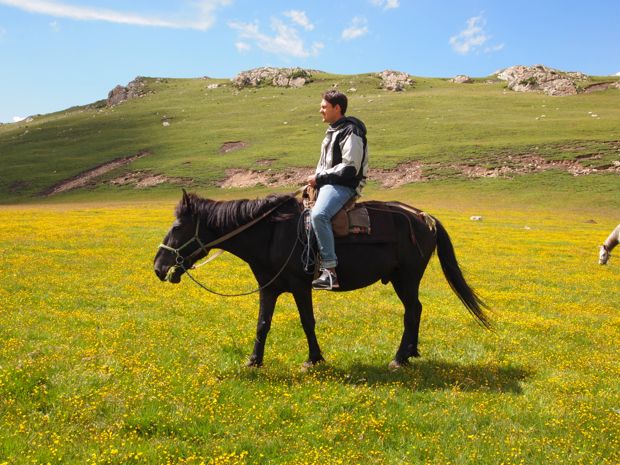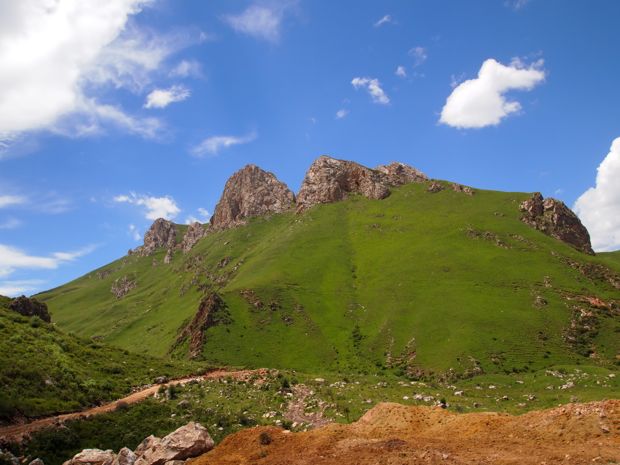 Our Tibetan guide (who spoke Tibetan, Mandarin and a few words of English), Justin, another traveller from Hong Kong and I, set off on our horses on route for the grasslands. It wasn't long before we were in the middle of stunning scenery. Huge rocks jutted out of the fresh, green grass and the sky..oh the sky! It was so big, blue and felt so close! So different to Beijing! Justin and I just kept smiling and taking photos! This place was breathtaking.
After a couple of hours we stopped for lunch; the guide's friends had brought over  bags of bread, meat and beer! After a relaxing stop, we were soon on our way again and eventually arrived at the nomads' site.
We were staying with a nomad family in their yak wool yurt. As our horses trekked into the site, the Tibetan guard dogs (used to protect the nomads' yaks and belongings) began to bark. These dogs are trained to attack and are usually tied up during the day. Unfortunately, two of them were free and started going crazy and running towards our horses. The horses became scared and started kicking, but fortunately calmed down quickly when our guide started pelting the dogs with stones! I actually felt quite sorry for the dogs, who were only doing their job, but I definitely did not want to end my day being mauled by a Tibetan mastiff!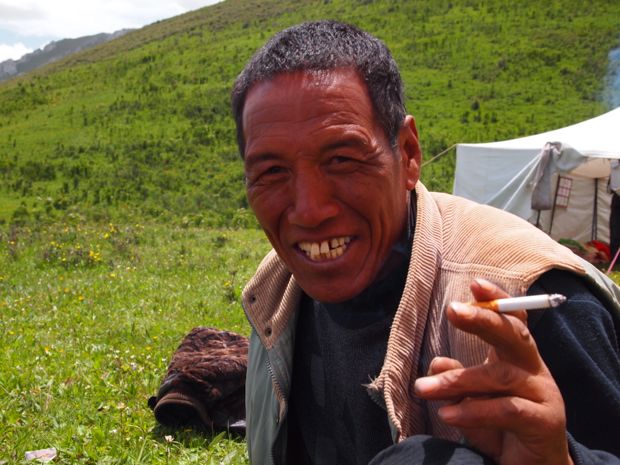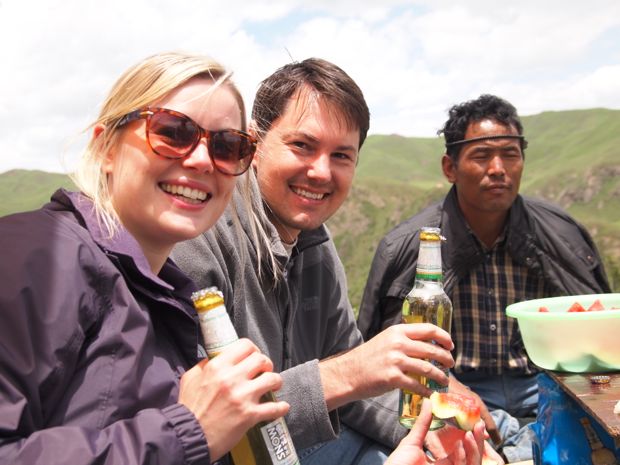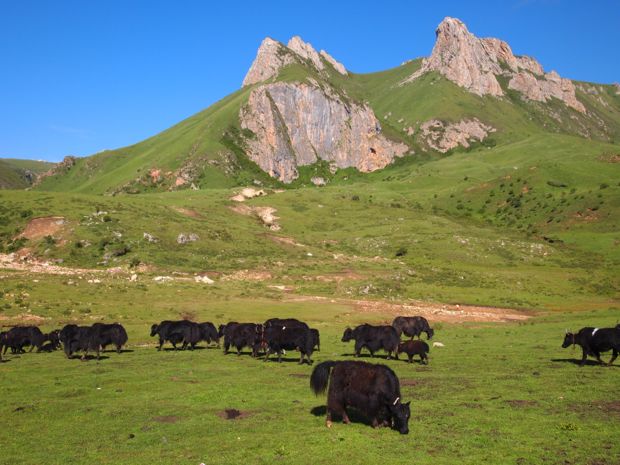 I hid in the yurt and refused to come out until the dogs were under control. The guide assured me the dogs would never come into the family's yurt. The nomad family who were hosting us were lovely and said they would keep the dogs tied up that night so I wouldn't be scared. I was very grateful to them as, otherwise, I would not have dared to wander down to the bathroom (a nice patch of grass behind a rock, near a stream) during the night.
Each night, the men herd the yak down from the hills. The male yaks are kept in a pen and the females are tied with their babies, ready for milking the next morning. As it began we were invited to join the herding. I admit, I was totally afraid of these yaks; some of them are huge. That was until I realised that, if I so much as looked at one, it was scared of me.
The nomad men use a "pi" to do the herding. It's a kind of slingshot and they have incredible skill at using it. The rocks seemed to fly for miles. The rocks scare the yak and they go running down the hill. We were given a go at using the pi, but only allowed to use soft items, like mud or mushrooms, in case we hurt ourselves. This was probably a good thing as we were, quite frankly, terrible at using it.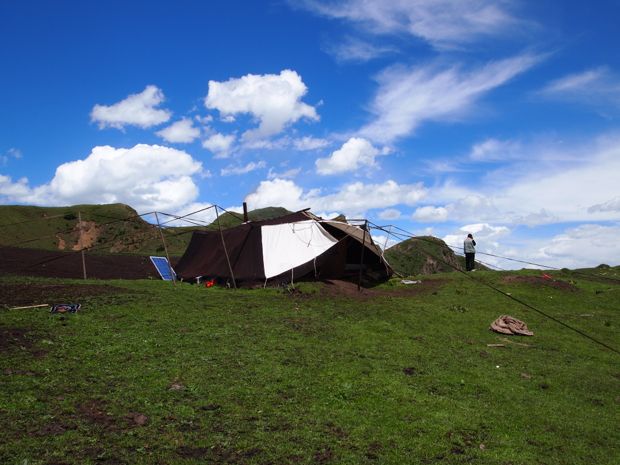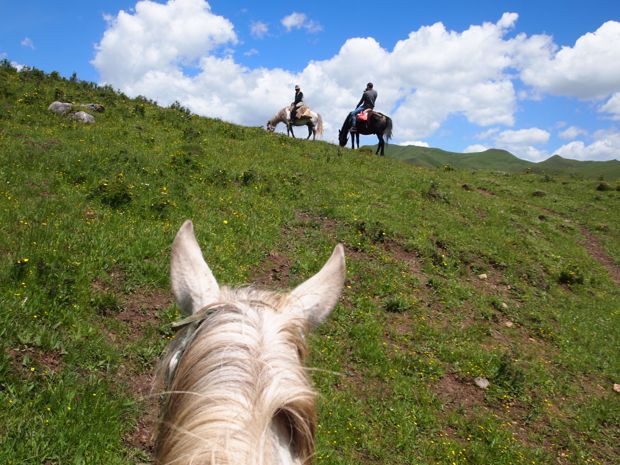 Once the yaks were all put to bed, it was time for us to rest in the yurt. We had rice and veggies for dinner and watched the women making the infamous yak yoghurt. We ate plenty of that too! The yurt had a small stove inside, with an opening in the roof to let the smoke out. The family eats, sleeps and socialises around the stove each day. After a while we went outside to take in the night time view. I have never seen so many stars in my life! With no cities around for miles and miles, we could see every star in the sky! It was absolutely beautiful and we stared up for a long time, while our horses ran happy and free in the grasslands ("They always come back," our guide told us).
Sleeping in the yurt was surprisingly comfortable. The family made a cosy bed on the floor for us and I was quite warm near to the dying embers of the stove (although our new Hong Kong friend said he was not so warm at the edge of the yurt- so pick your spot wisely).  We were woken up several times in the night by a yak trying to enter the yurt! Apparently this is very unusual. You haven't travelled until you're woken up by a yak entering your yurt, I guess!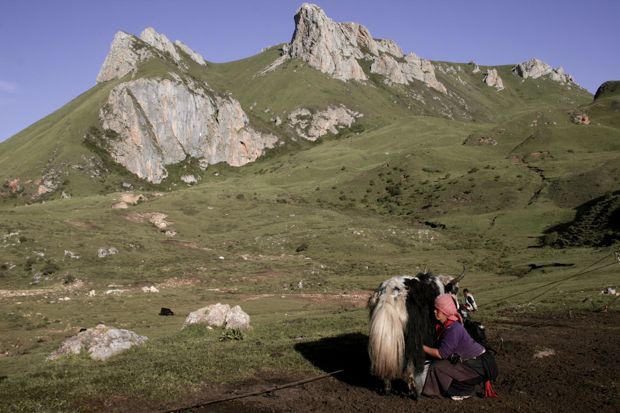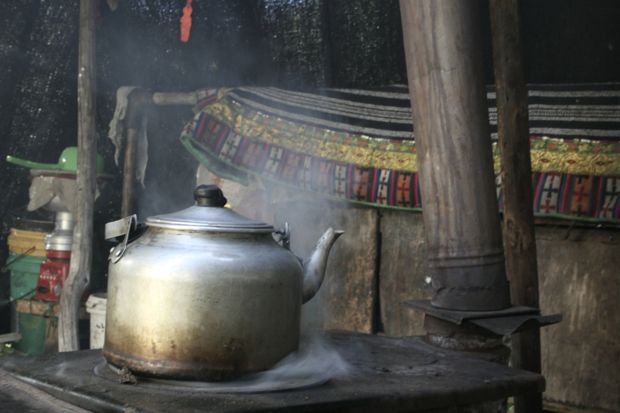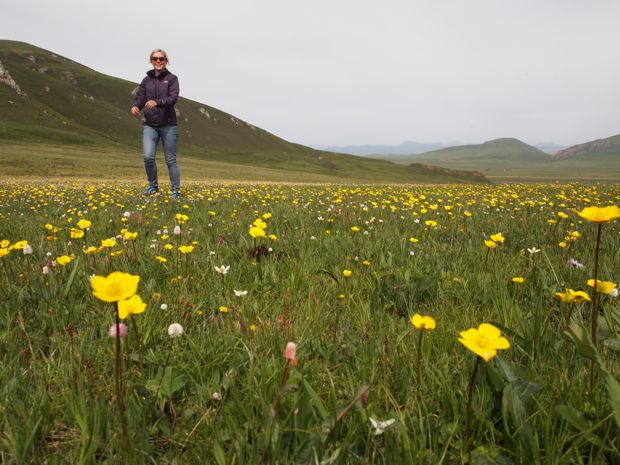 The next morning I woke up early. I went outside to find the women already busy with the milking. The women nomads work very hard. They wake up extremely early to milk the yak, fetch the water, cook the food and all kinds of other jobs. The men also work very hard with the yaks but, we were told, they have fewer jobs to do than the women. The light was absolutely gorgeous at that time. It was so soft and the grasslands looked perfect. After a while, Justin and our Hong Kong companion, Jonathan, came outside. We went over to the yak pen to watch the men catching the yak with lassos so they could cut their hair. They use the hair to make the panels for the yurts. One of the young girls from the family was obviously much more interested in this than the milking. She spoke only Tibetan and I speak none, so she modelled how to lasso  the yak by swinging her arms around her head.
After wandering back to the yurt for breakfast, we watched some of the children spreading out the yoghurt cultures to dry in the sun! It was sadly soon time to begin our trek back to Langmusi. We would take a different route to see more of the grasslands. Before we could leave the area one of the dogs came running over, snapping at the heels of the horses (who remained remarkably calm!).  For the rest of our Amdo and Kham trip I was scared at every dog bark, afraid that there was a vicious dog about to attack me.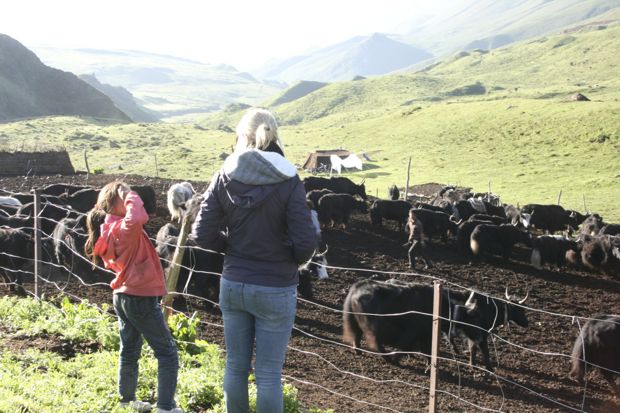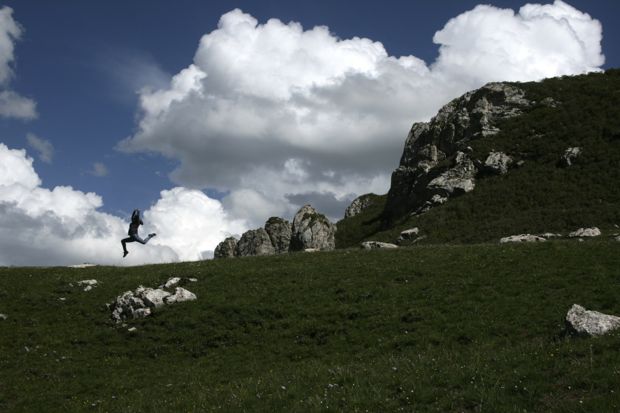 The ride home was just as beautiful as the first day. We stopped in a huge field full of yellow flowers and went up and down hills of green, green grass. We also had a lunch stop at a Tibetan woman's home in a small Tibetan village.
Just as my backside was beginning to feel a little to numb, we arrived back in Langmusi and said a sad goodbye to our horses. They were led off by some sweet little kids; to be set to free in a field until their next trek.
Those two days were full of the most amazing adventure and emotions. Pure wonder at the grasslands, fear of the dogs, beauty in the surroundings. And I have a deep respect for the nomadic people, who continue this way of life. They work from dawn until dusk raising their yak and making their yoghurt, carrying on the work of their ancestors. It's a very different way of life to the one I am used to and I wouldn't hesitate to visit again.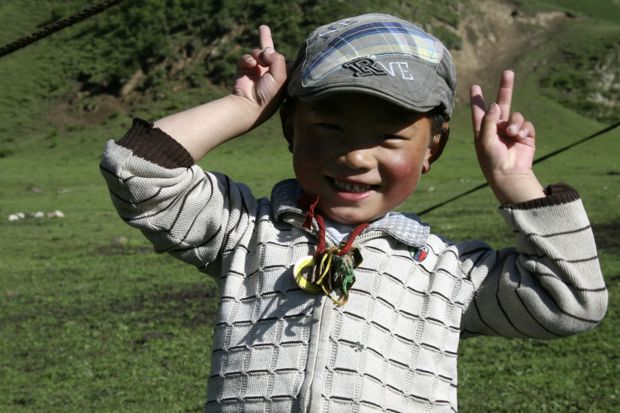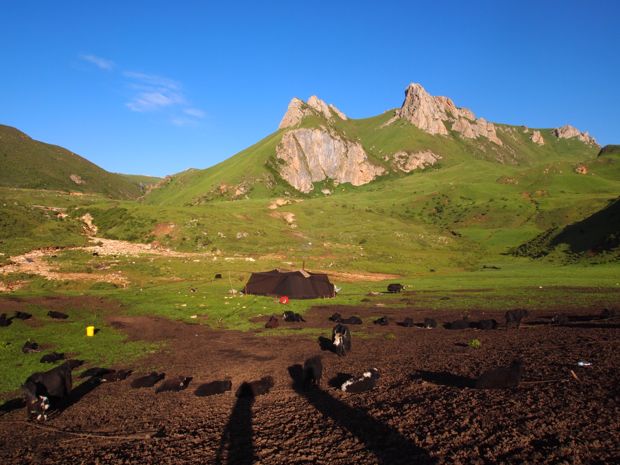 How We Did It
It was really easy to arrange our horse trek with the Tibetan Horse trekking Company in Langmusi. It was all done via email before we arrived in Langmusi. There is another company in town called Wind Horse trekking, but I don't have any personal experience with them.
Tips
You don't need to bring a lot. The lady at the horse trekking company will give you a list of essentials to bring (water, toilet paper etc) and give you a bag to pack it all in. So you don't even have to worry about carrying stuff on your back (it all goes in the horses saddle bags).
Bring some layers for the change in temperature at night but you don't need a full change of clothes. You'll just sleep in your clothes.
 If, like us, you wear contacts, consider bringing your glasses as you're not really going to be able to wash your hands. We both wear dailies so we did just took them out at night and put new ones in the next day. I did have some problems with dirt and yak hair in them though!
So, what do you think? Would you like to do a horse trek and stay with a Tibetan Nomad Family? Have you ever done anything like this before?