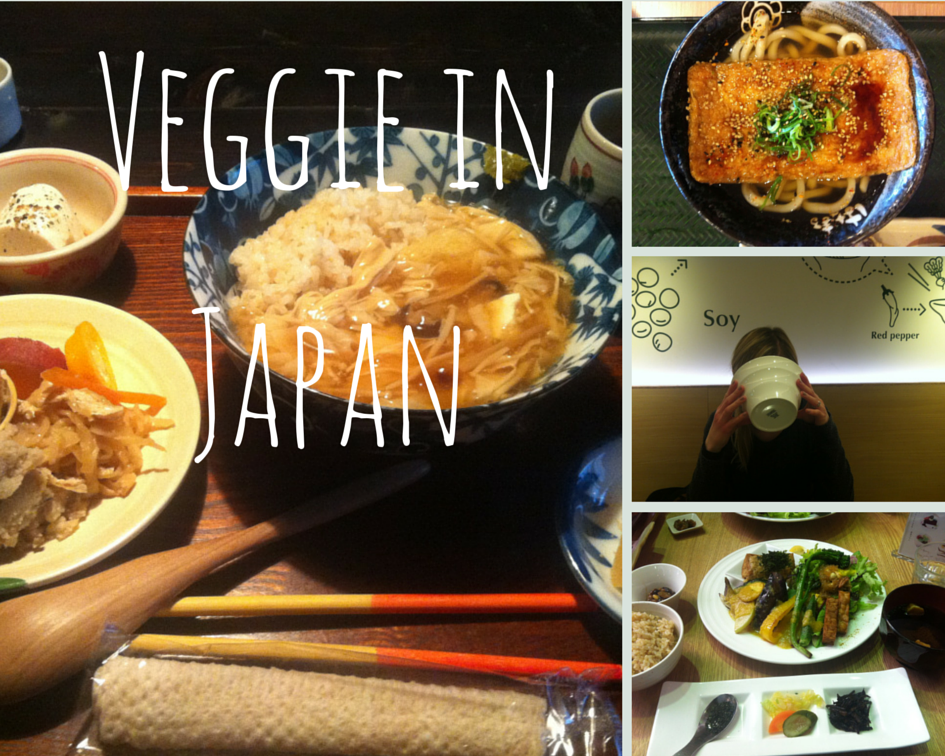 I love food. From raw organic dishes to greasy sweet potato fries to fusion Korean-Mexican, I love it all. But being a vegetarian outside of Europe and coastal America (or Ubud, that place is veggie heaven), is not always easy. I'd never avoid a country because it wasn't "vegetarian friendly" so sometimes I  just have to make do with whatever I can get. That can mean missing out on local dishes when there isn't a veggie version.
So can you get vegetarian food in Japan? Before we went I'd read it was impossible to be a vegetarian there. If you eat fish (a pescatarian) then you'd be in heaven, but a non-fish eater would struggle.
Well I'm here to tell you that you lacto-ovo vegetarians will not go hungry. In fact, at least in major cities like Tokyo and Kyoto (I've no doubt smaller towns would be more problemtatic), you can eat very, very well! There are loads of vegetarian and vegan restaurants popping up and we even found great veggie food in "regular" restaurants too*.
I ate so well, in fact, that I am going to dedicate this whole post to some of the amazing vegetarian food I ate in Japan. Most of these dishes were at full on vegetarian or even vegan restaurants, which were surprisingly easy to come by in Kyoto and Tokyo.
Vegan Ramen at T's Tan Tan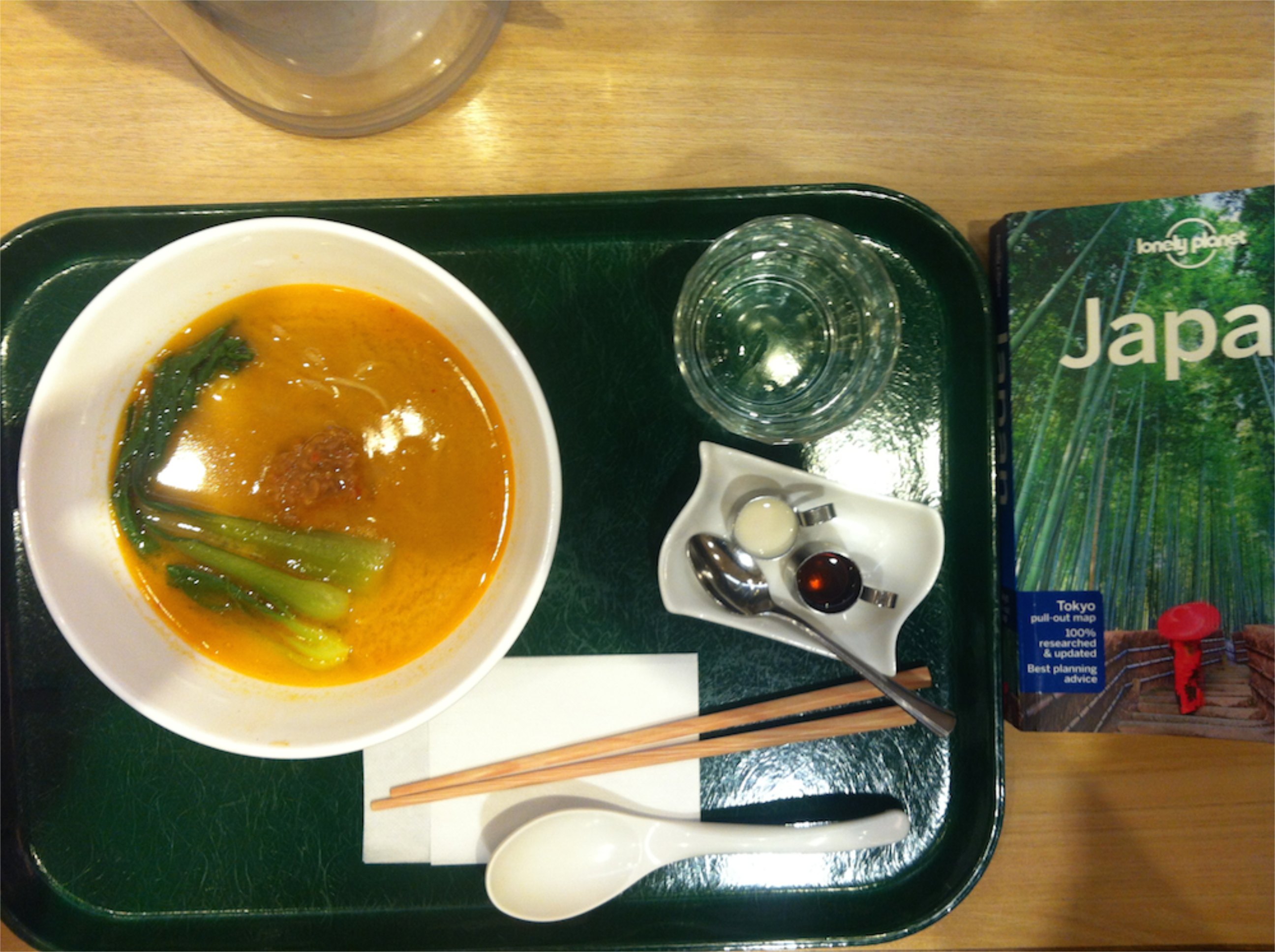 It doesn't look much in the photo but this vegan ramen was so good, I ate it 3 times over the few days we spent in Tokyo! I don't know why there is a vegan ramen restaurant in Tokyo Station (the station is very big- find it inside the station on "Keiyo Street") but I am so glad there is. It was our first stop in Tokyo, before we even checked into our hotel, and it set the tone for an amazing culinary trip.
Thanks to lovely Vivien from Lost in Translation for this one. We couldn't manage to coordinate a meet up but I did eat well in Kyoto thanks to Vivien's excellent blog. We ended up at mumoteki twice. They even had a veggie version of a katsu curry. Fellow Brits may be familiar with Wagamama's back in the UK and their veggetable katsu curry (mmm deep fried sweet potato). That's my favourite dish there, but in Japan it is definitely not a veggie dish.  I was so happy to find a vegetarian version here.
Random Veggie Curry, Kyoto Station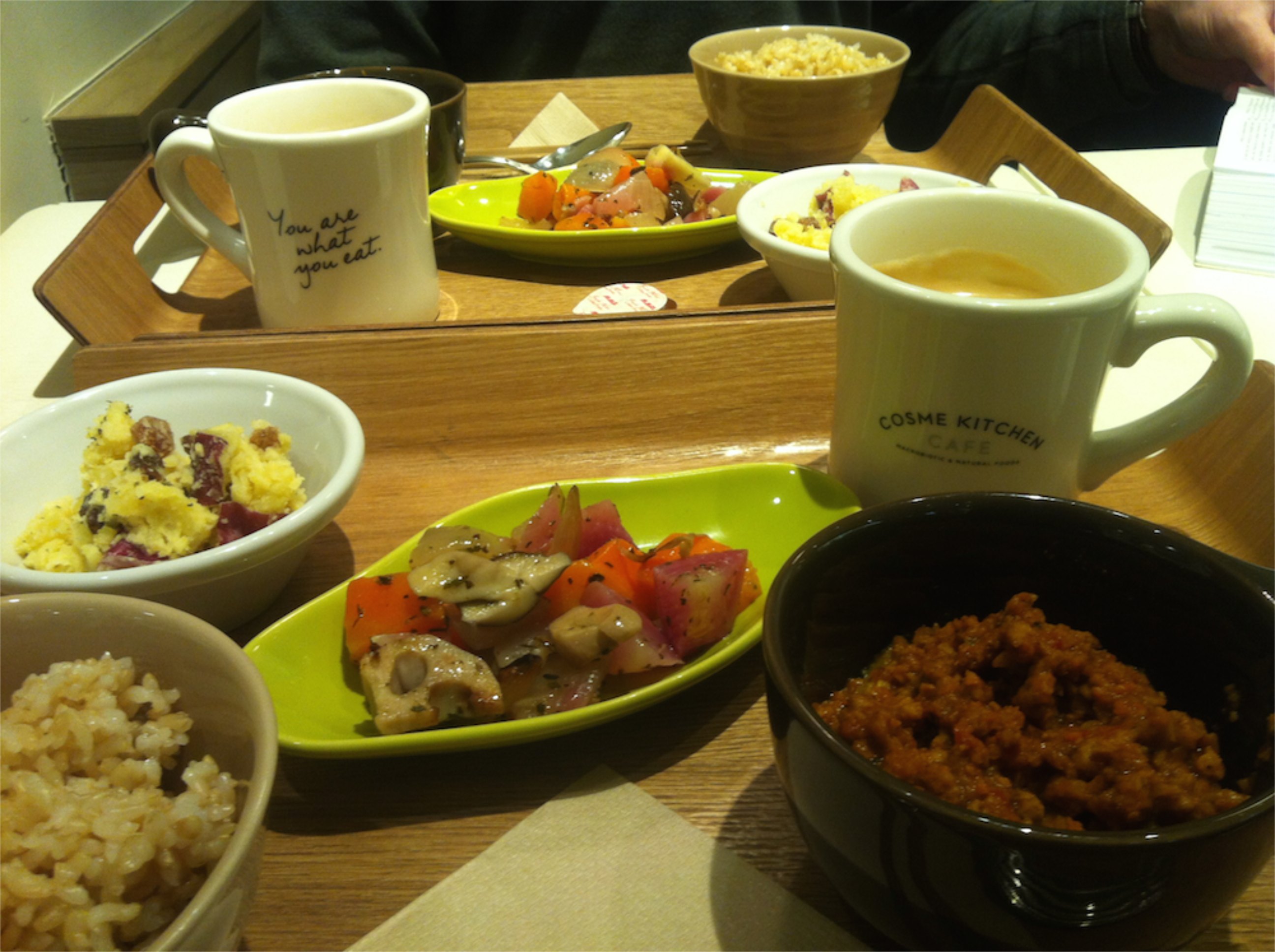 We stumbled across this place when looking for a quick bite to eat in Kyoto station. It turns out stations are interesting places in Japan and seem to contain shopping malls, hotels and everything else. We found this cute little cafe (the mug says Cosme Kitchen so I'm guessing that's what it was called- but I honestly can't remember!) and as luck would have it, they had a veggie curry on for their lunch set! Yum!
Udon Noodles in Sapporo Airport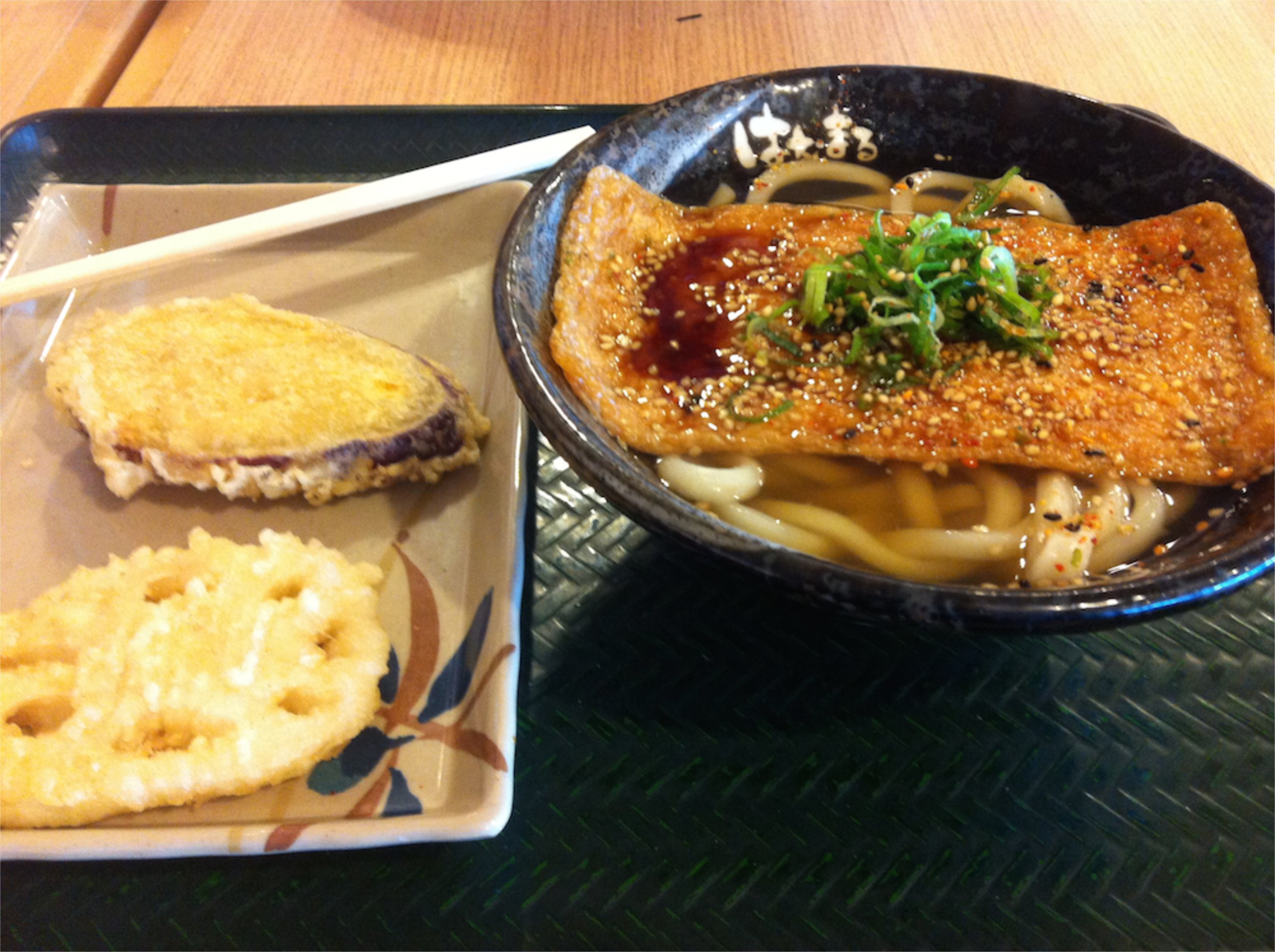 Before I mention the food can I just talk about the wonder that is Sapporo Airport? I could have spent all day there exploring the restaurants, shops and cinema. I love Udon noodles and these were just from a random food court- you could select your own toppings (that's a big slab of tofu) and sides (deep fried lotus and sweet potato for me). So simple but seriously delicious.
Sushi, Shibuya, Tokyo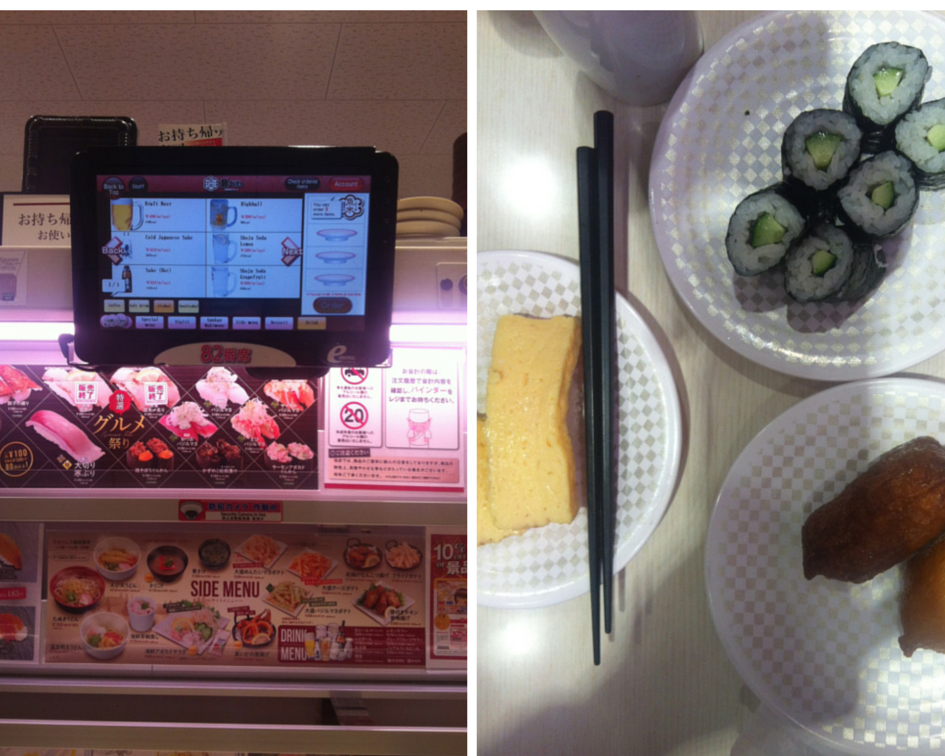 I can't remember what this place in Shibuya was called (anyone know?) but it was super fun! You order your sushi on the computer then it whizzes down a conveyor belt to you. It's probably not the best sushi in the world but it was certainly entertaining. Justin eats fish, but I don't, so I tend to eat loads of my favourite tofu parcel dish and anything else that looks non-fishy (in this case cucumber roles and omelette sushi).
Tamana Shokudo, Omotesando, Tokyo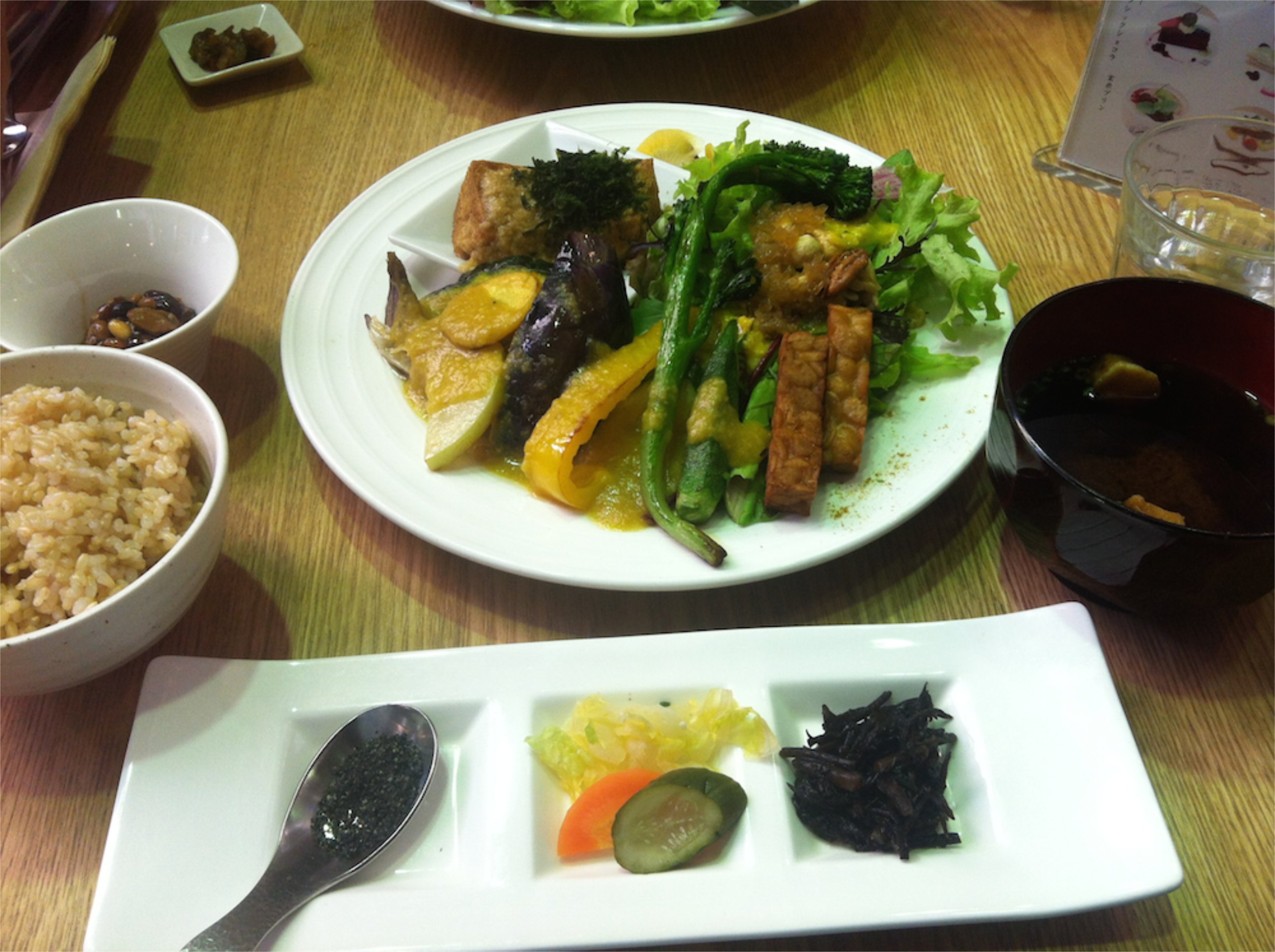 Healthy, organic food in Omotesando. It was a little tricky to find but definitely worth it. The staff were so friendly as well.
Brown Rice, Omotesando, Tokyo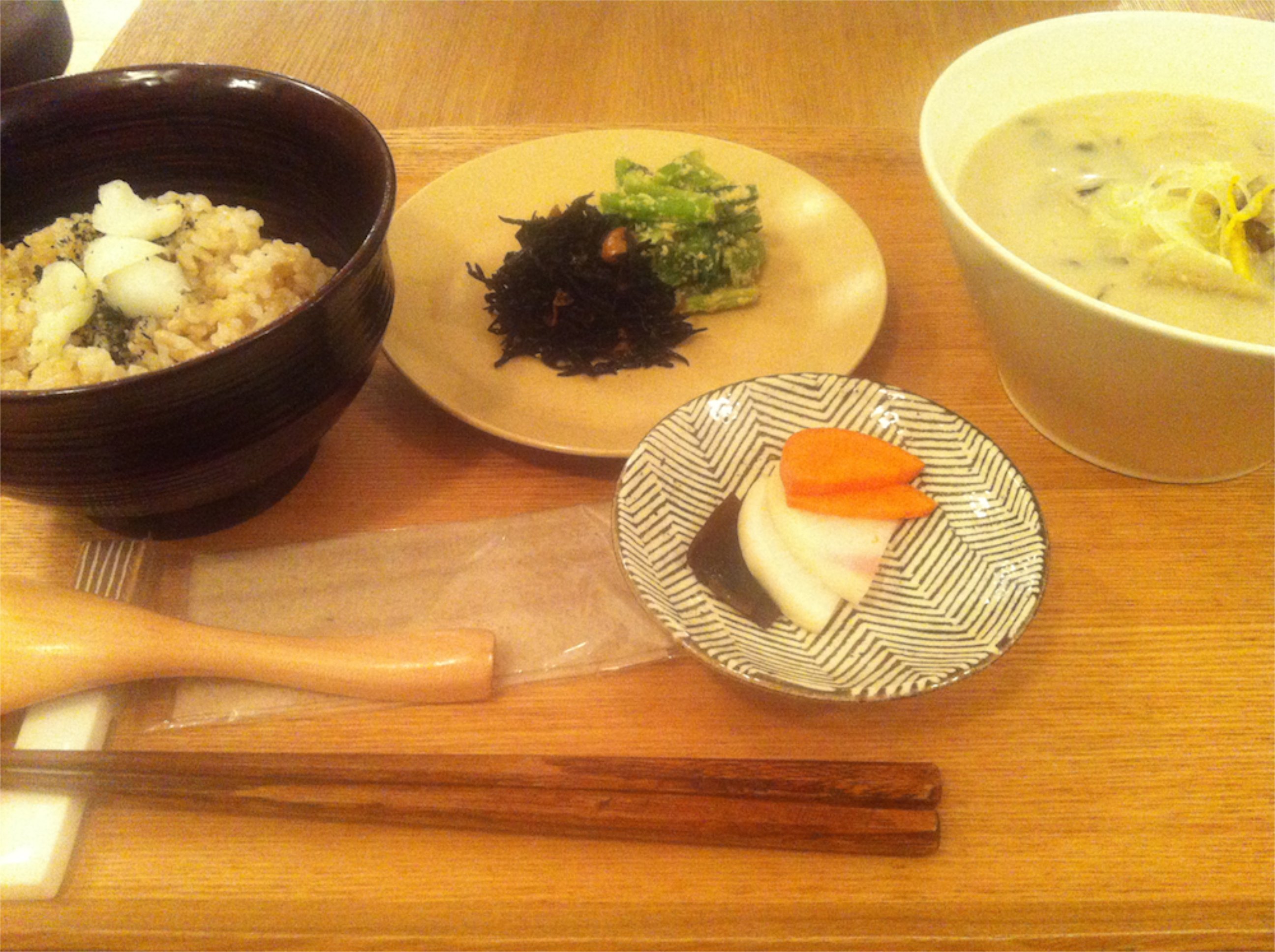 As a Brit, I am familiar with Neal's Yard Remedies for their soaps and moisturisers. Imagine my surprise when I found out they also own a lovely veggie cafe in Tokyo. The food was delicious and they even have Neal's Yard hand-wash in the bathrooms.
Japanese Convenience Snacks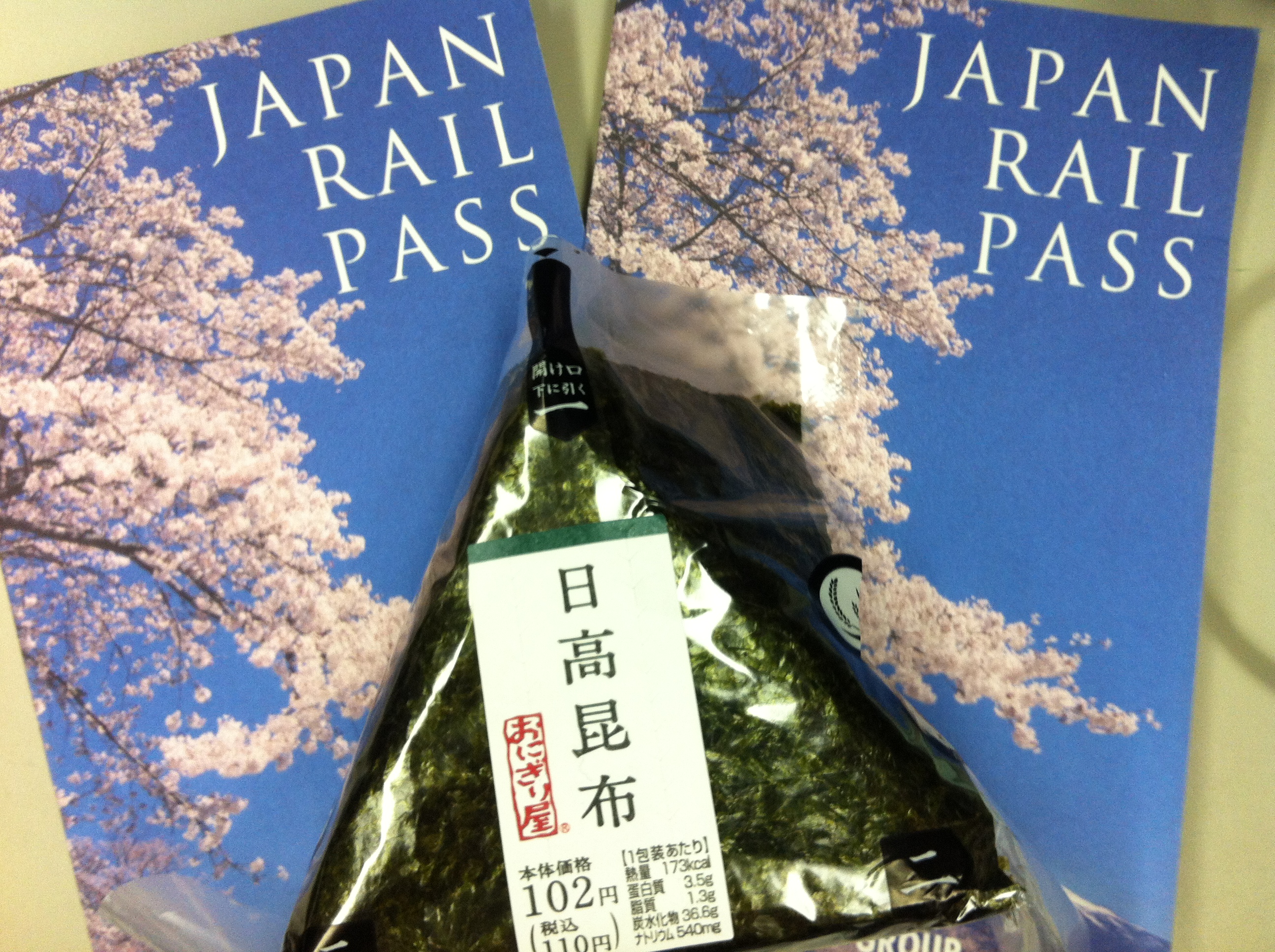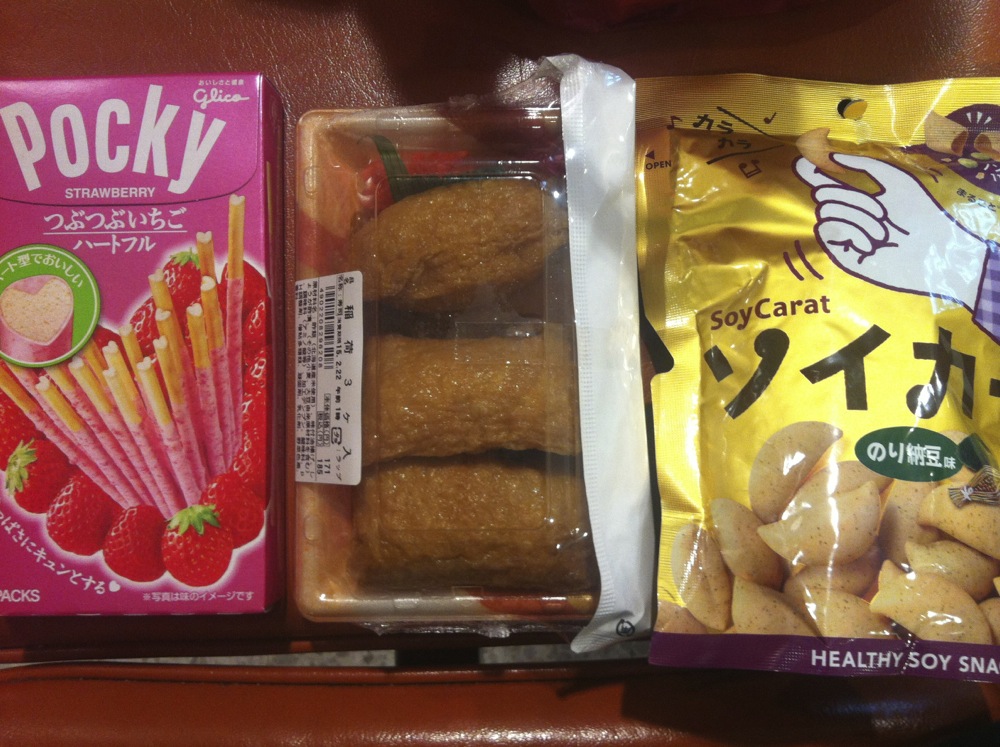 Japanese convenience stores have the best snacks. A day isn't complete without a a quick convenience stop or two. Enough said.
Ain Soph, Tokyo
So there you go- it is indeed possible to get vegetarian food in Japan. Bonus mention goes to Ain Soph Journey– a lovely vegan restaurant in Shinjuku- but I didn't take any photos there! There are so many more vegetarian restaurants in Tokyo and Kyoto that we didn't even get to try. I'd definitely go back to Japan just to try them!
*Side note: A few years ago I made the decision that, when travelling and eating in non-veggie restaurants, I would take a kind of "what I don't know can't hurt me" approach to whether or not there was fish or meat stock used in the broth. While almost all of these dishes were in fully veg or vegan restaurants, I couldn't account for the broth in the non-veggie places.
Pin It For Later
What do you think of the food- what would you like to try? Were you surprised that there were so many vegetarian restaurants in Japan?