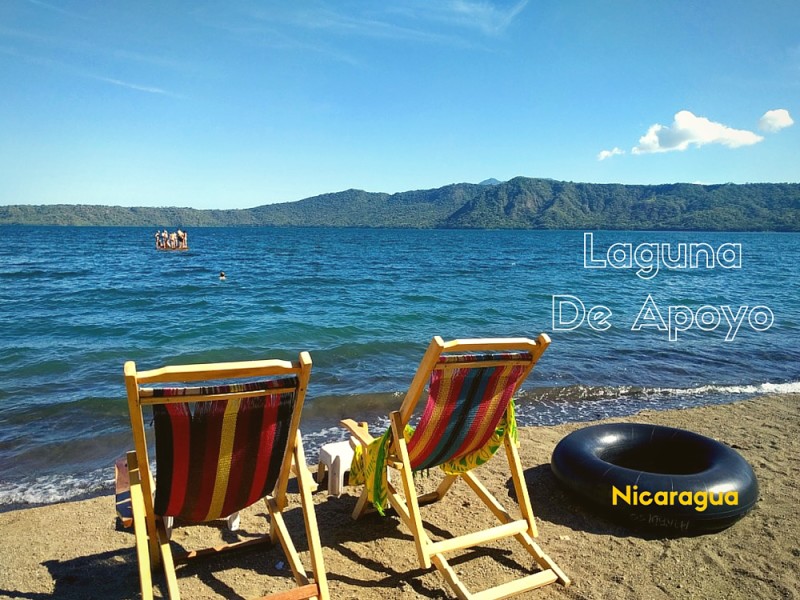 Clear warm waters. Beach side beers. Lush green views. Laguna de Apoyo, a freshwater crater lake, was the perfect place to spend an afternoon in Nicaragua. They say it's the cleanest lake in Central America and I don't doubt it.
I ventured to Laguna de Apoyo, just 25 minutes outside of Granada, after my last Spanish class at Casa Nica.  As soon as classes ended for the day, my three new friends and I grabbed a quick lunch and then took a taxi out to the laguna.
Our destination was Hostel Paradiso. Just like the nearby Monkey Hut, another popular hostel, you can use the private beach area and facilities for a small fee (about $5). We picked a spot on the beach and settled in to admire the views.
After chilling on the water's edge for a while, I was tempted in by calls of how warm the water was. I tiptoed over the rocky entrance and floated on my back in the warm, clean water.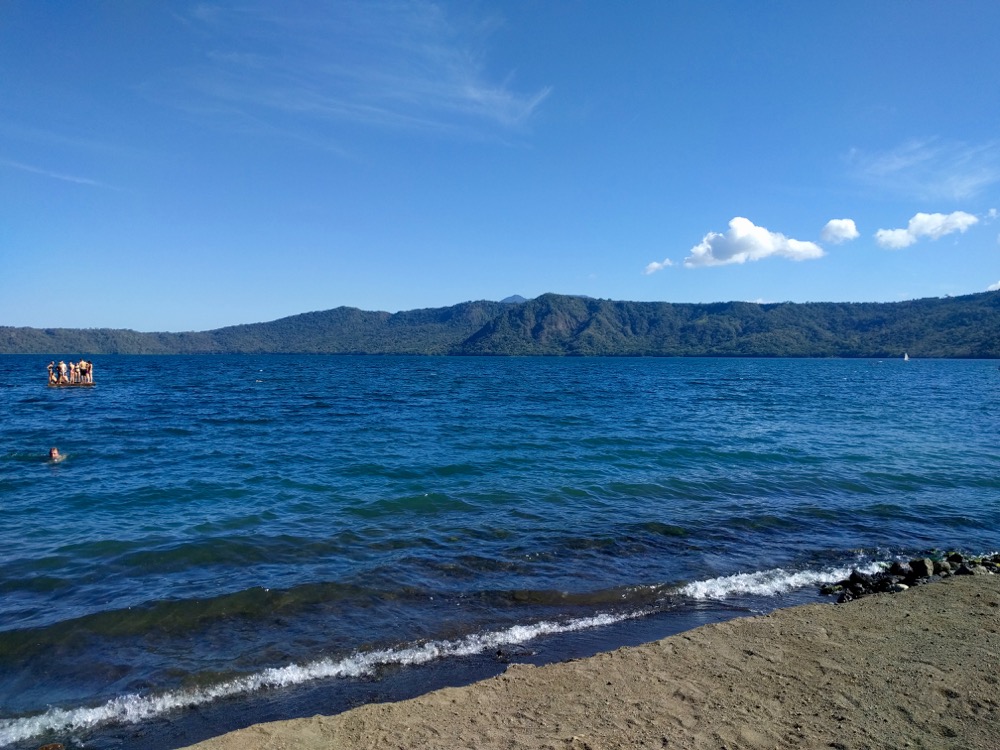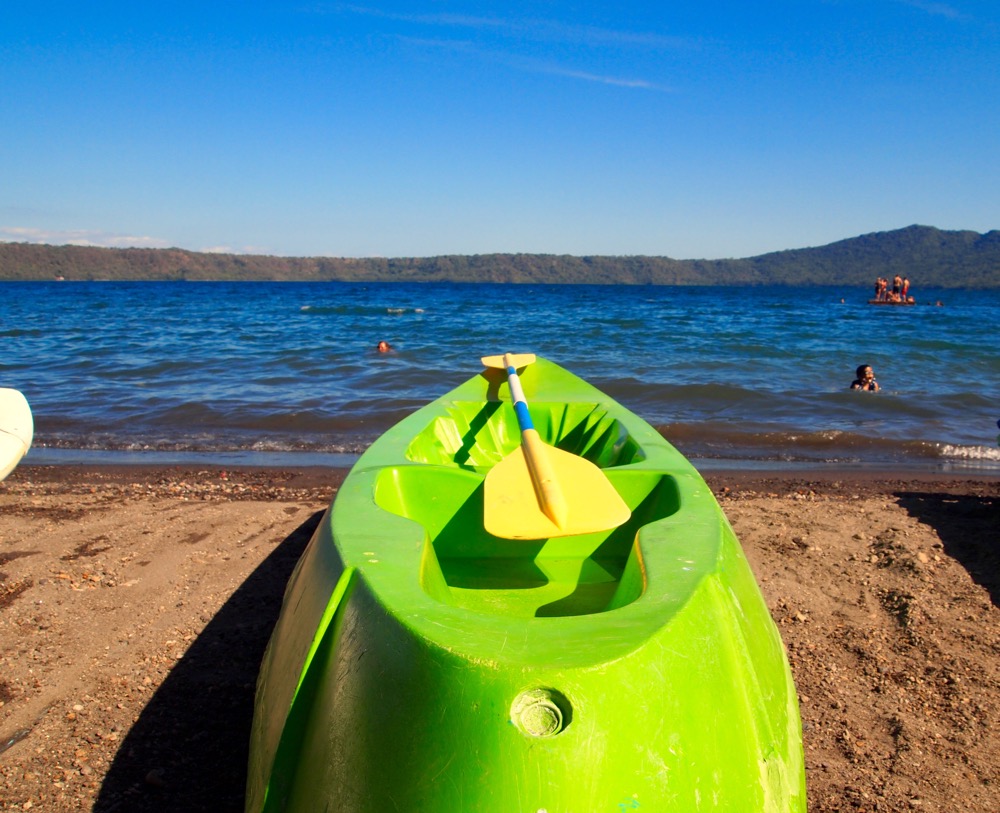 Thousands of years ago this crater lake was an active volcano. I don't know if there are any special minerals in there, or if it's because of the freshwater and I'm used to the salty Pacific Ocean, but there was something different about Apoyo. I've heard the water described as soft and light and I think I'd agree with that.
One of the unique things about experiencing a swim in Laguna de Apoyo, is the thought of it being a deep volcano crater. It is one of the deepest lakes in Central America. Kate had her scuba mask with her and swam out along the floor, until it suddenly dropped off into nothing. That sounded a little too freaky for me so I passed on this experience. No need to think about the 200 meters of empty, nothingness beneath me.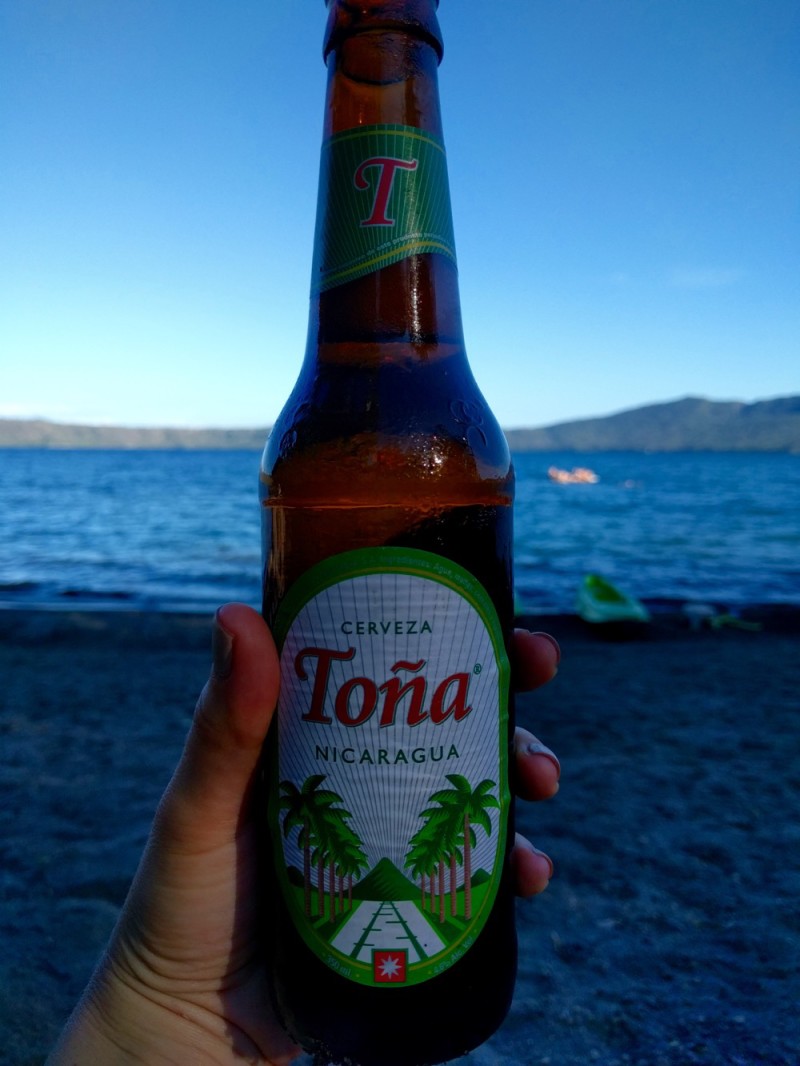 After swimming and floating around in an inner tube for a while, I happily relaxed on the beach with a local beer. I don't know what it is about these light, local beers in every country I ever go to- but they always taste absolutely perfect on a hot day. I love paddle boarding and would have enjoyed  using the hostel's boards. Unfortunately, they did not seem to have the correct paddles. Perhaps they were just all being used elsewhere, but I saw some guests trying to use kayak oars, which simply doesn't work.
Laguna de Apoyo was such a lovely way to end that stretch of time studying in Granada. It was a unique and relaxing place and I was glad I had the international crew of Christina, Kate and Marina to share it with. Thanks, ladies!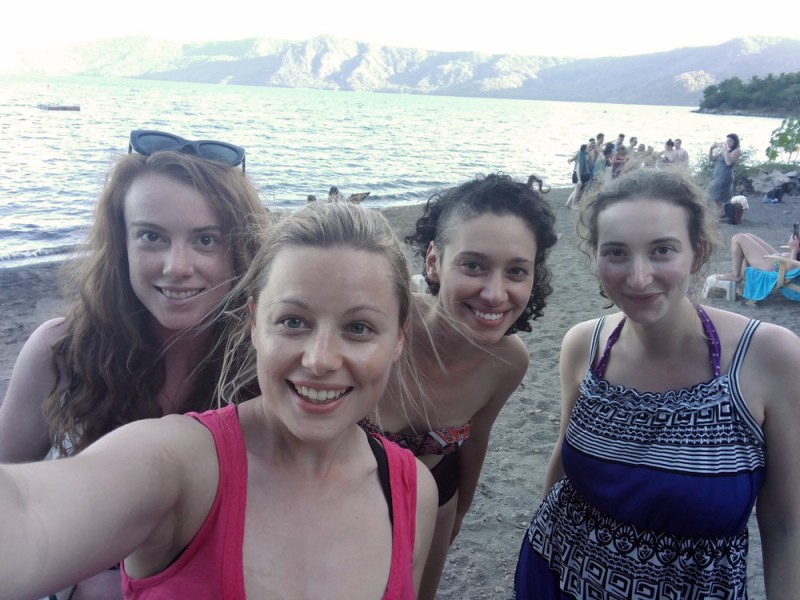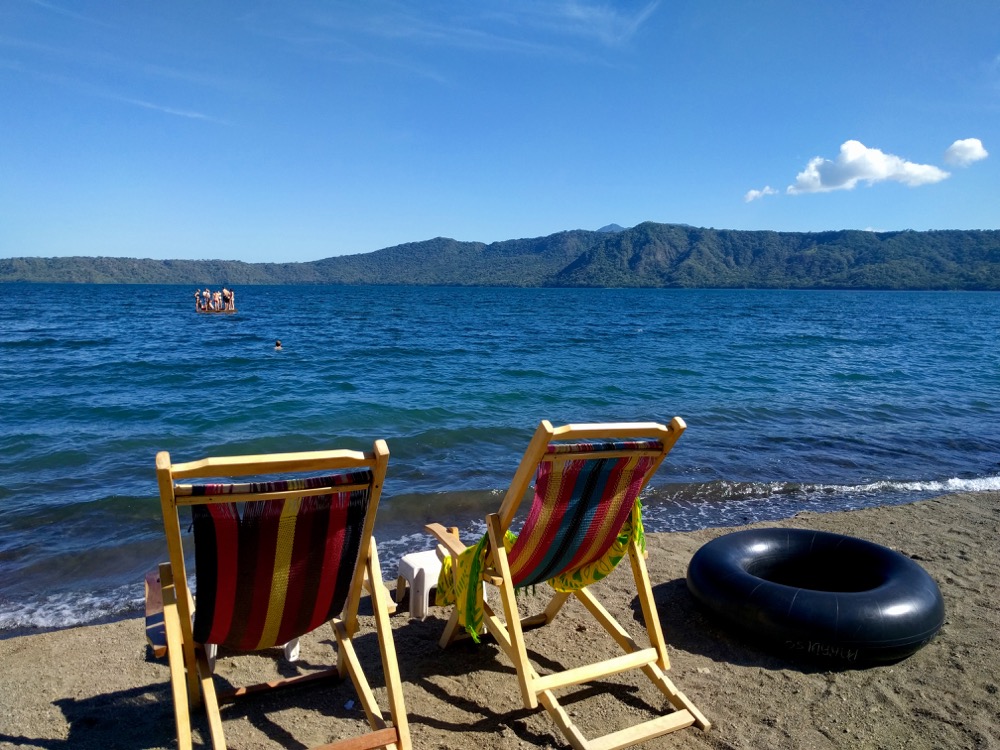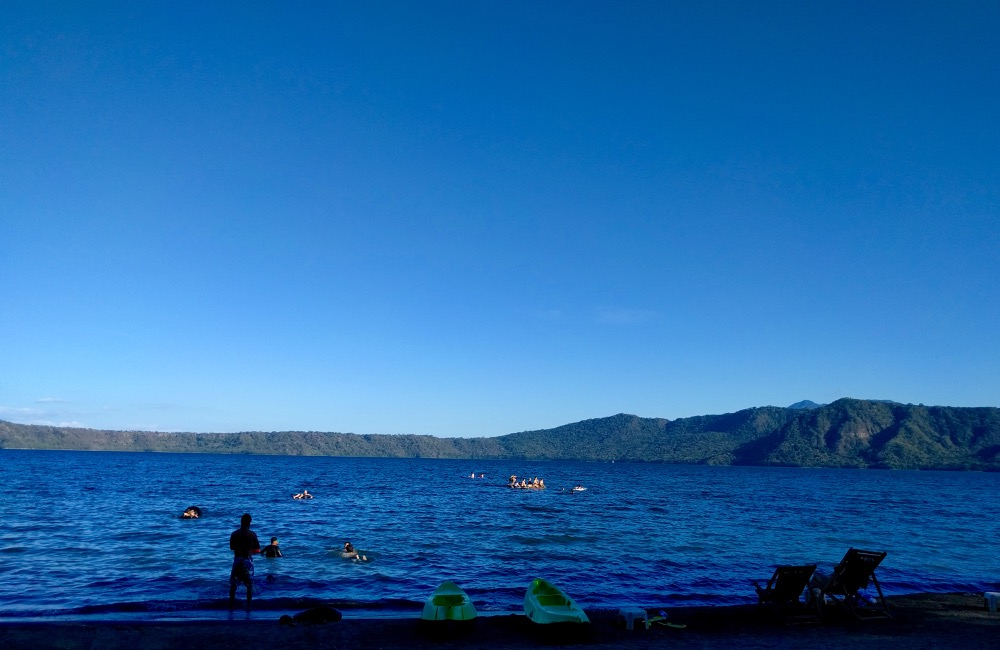 How To Get There
We arranged a taxi through our Spanish school and had it pick us back up at a set time. Between 4 of us it was just a few dollars each.
There are shuttle buses that leave in the morning and stop at either Monkey Hut or Hostel Paradiso, returning in the afternoon. It's best to check their individual websites as times and pick up locations do change.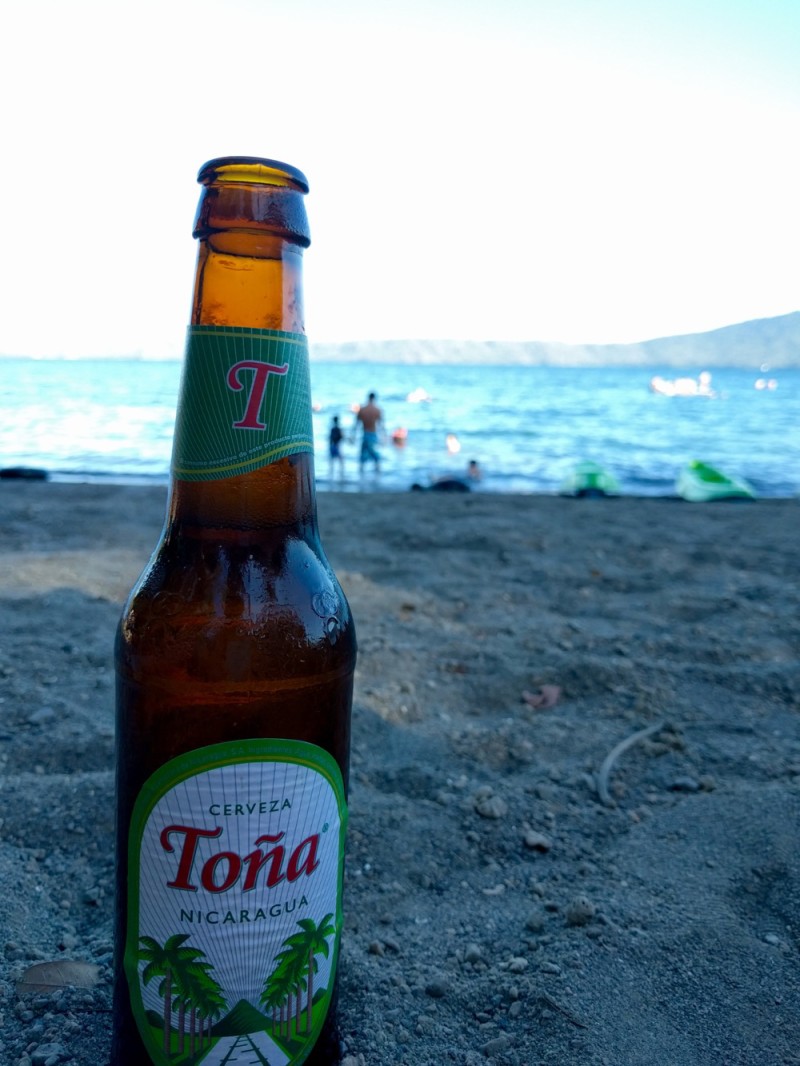 PS- Don't forget to enter my giveaway this week! Click here.
I thought swimming in a volcano crater lake was a rather unique thing to do. I haven't done that anywhere else in the 30 + countries I've been to. What's the most unique thing you've ever done on a trip?
Thank you for reading. If you liked this, you can sign up to receive updates by entering your email below. Or follow my Instagram here. ♥
Pin It For Later