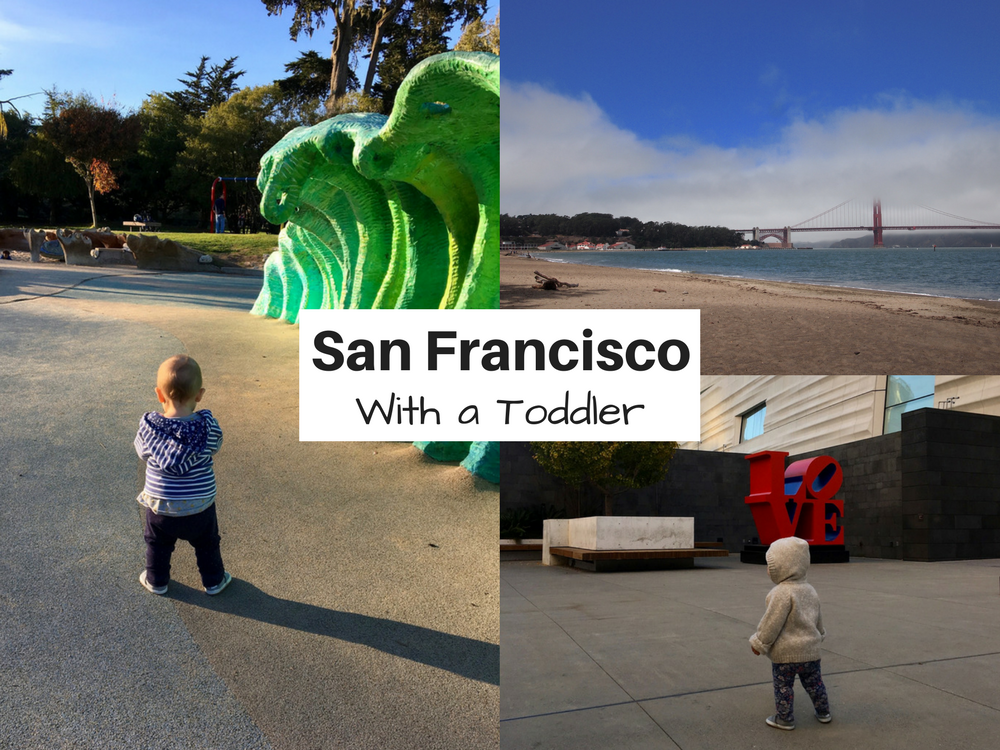 It's not often I get to tag along on one of my husband's work trips. But when Justin mentioned he had a conference in San Francisco, I couldn't resist booking myself a seat on the flight. And don't worry, we didn't leave Little S home alone- under two's get to travel for free. Hurrah!
I've visited the foggy city twice before but this time I was going to San Francisco with a toddler. While having a mini-me in tow certainly made my third trip to SF a little different, it didn't stop me exploring the city and experiencing new things. Read on to see what we did in San Francisco with our 12 month old toddler. (Note: I know it's debatable when "toddler-hood" starts but S was walking well by 12 months and felt very much like a toddler at this point).
Before The Trip
Before our trip I asked a couple of friends (former SF residents) for tips on things to do in San Francisco. They came up with all kinds of great suggestions. I also took my own advice from this post. I decided to visit mostly new destinations in SF, rather than try to recreate past adventures. Little S and I (and Justin when he wasn't working) ended up having a lovely time exploring SF together.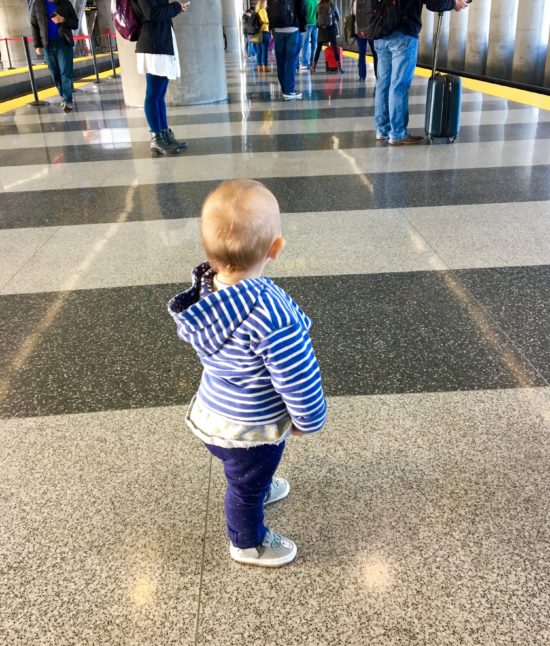 Day One- Golden Gate Park
We took an early flight from our local airport in Orange County and arrived in SF by 9am. San Francisco's excellent public transport meant we didn't have to hire a car at all. We simply hopped on the Bart train  to our hotel, near to Union Square. This was the only day Justin wasn't attending his conference so, after dropping off our bags, we loaded up our Clipper cards and headed to Golden Gate Park all together.
This huge park had somehow completely escaped my attention on previous trips but it is absolutely perfect for adults and children alike. There are multiple museums, different types of gardens and a playground. We had originally intended to visit the Academy of Sciences museum, but S fell asleep on the way. So I just popped her in the Ergo baby carrier (I have a post on this to come but baby carriers are the best when traveling with a baby/younger toddler) and Justin and I wandered around the beautiful Japanese garden, reminiscing about our adventures in Japan a few years back.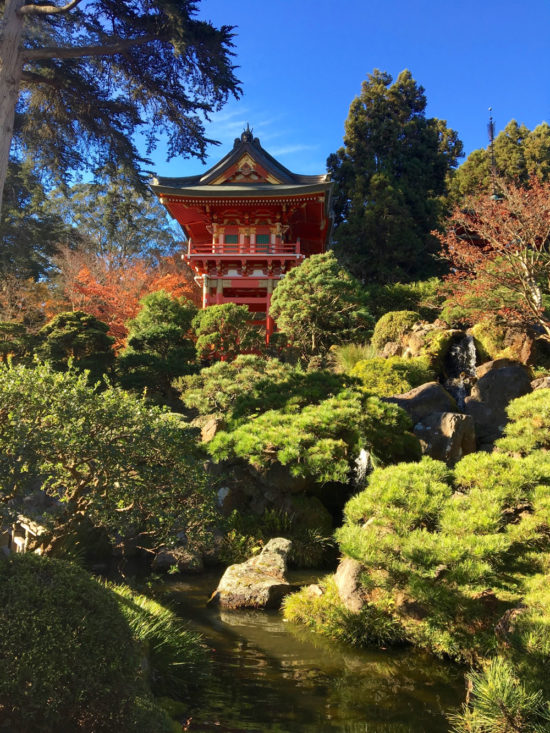 Once S woke up, she enjoyed looking at the pretty plants and waterfalls in the garden. Amusingly, this is the third Japanese garden we have taken her to. You can see where our interests lie! Next we left the park and walked up 9th Avenue for a delicious Korean lunch. I absolutely love kimchi and bi bim bap after spending time living in Korea. We thought the kimchi was a little too spicy for S to try this time but we would love to know at what age Korean kids start eating it?
After lunch we returned to Golden Gate park so S could have a proper run around and play in the lovely Koret Children's Quarter Playground. There were all kinds of swings, slides and interesting structures to run through, around and explore. There's even a carousel! Around this time (December 2017) S had just become interested in exploring playgrounds, so we all had a blast playing together!
If we were on a longer trip, I would definitely have returned to Golden Gate Park at least one more time. Next time we will be sure to visit the museums!
Dinner times can be a little tricky when you travel with young children so, after a long day, we ordered food from the restaurant attached to out hotel. I'll have a post coming up soon about how we've dealt with baby/toddler meals while traveling.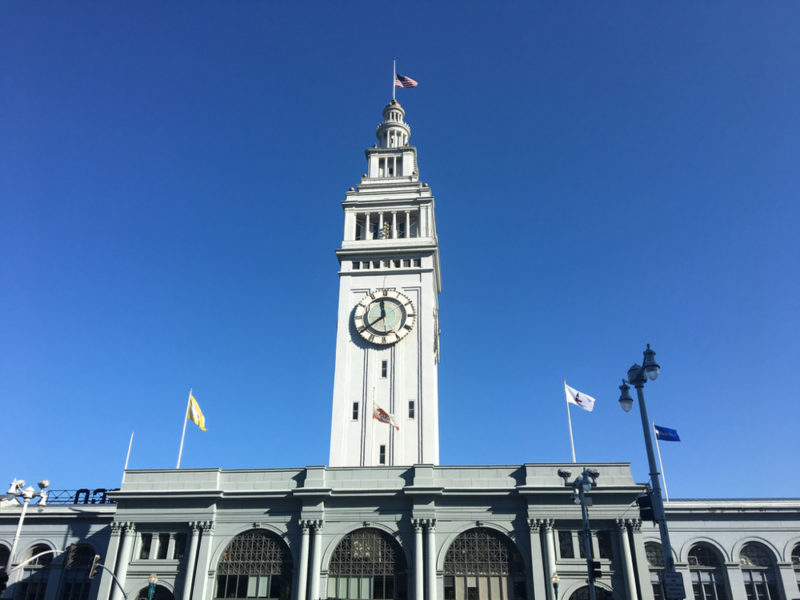 Day Two- Ferry Building, Union Sq, SFMOMA
With Justin at his conference, it was just Little S, me and the whole city of San Francisco to explore. Staying near Union Square was a perfect choice as we could walk around to so many things. I love walking whenever possible. It's great exercise and it really gives me a much better feel for a city.
So on day two I strapped Little S in the Ergo, slung on my Swedish Fjallraven Kanken backpack (this is seriously the best backpack to use as a baby/diaper bag ever) and we walked 20 minutes to our first stop of the day: the Ferry Building Marketplace. This building next to the water is full of cute little shops, cafes and eateries. While not specifically aimed at kids, Little S enjoyed all the new sights, smells and sounds. For slightly older children there is a yummy looking ice cream shop (we haven't gotten S hooked on that..yet!) and for coffee loving adults like me, there is a Blue Bottle coffee stand. There is also a lovely book shop with a sweet children's section. You can, of course, also look at the boats out the back but S sees enough of these in Newport Beach. 🙂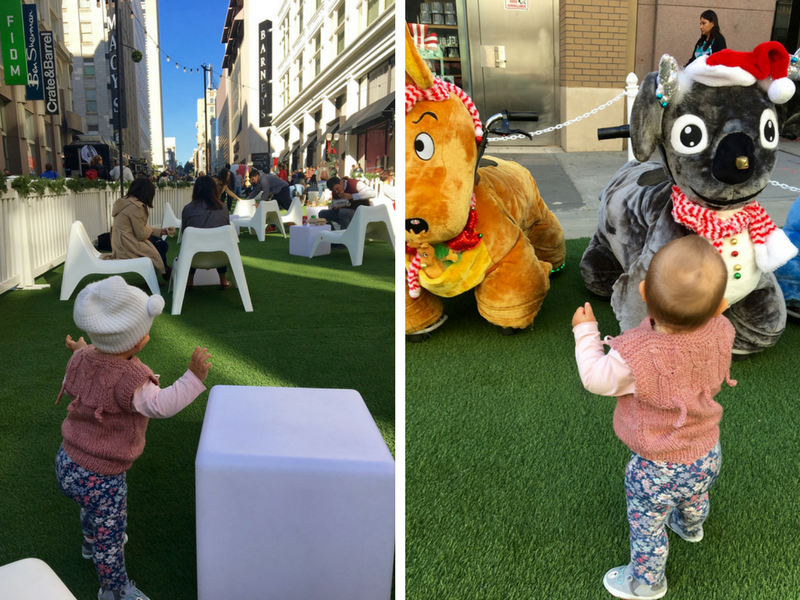 After lunch, we stopped behind Macy's near Union Square where they had a little fake grass area with seats. I'm not sure if this was just for the holidays but it was a nice little place for S to stretch her legs and they also had places to buy hot drinks like mulled wine and coffee.
After a few minutes of down time back at the hotel we were soon packed up and out for our next stop: The SF Moma (San Francisco Museum of Modern Art). Now, I actually have been to this museum before, but it was 11 years ago so I don't really remember much. This was a fun place for both me and Little S. As the SFMOMA website boasts; Kids are always free! They even have a website page here with a few ideas on which exhibitions are the most fun for kids.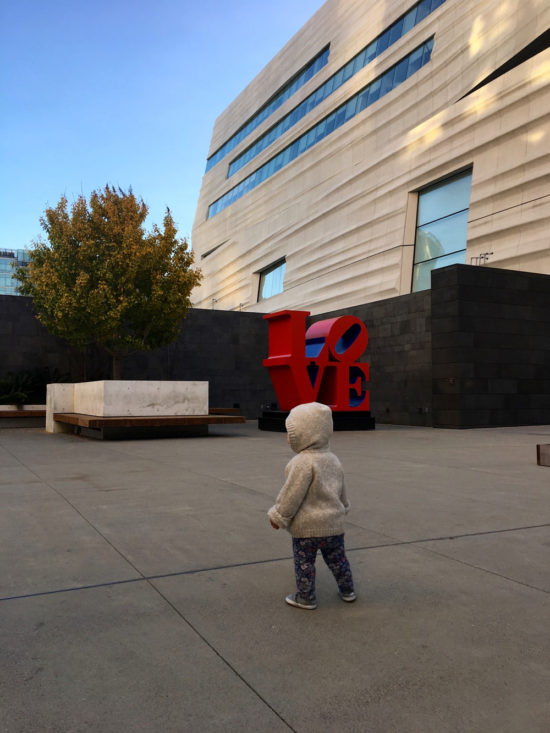 S loved the snowman in a freezer near to the plant wall, running round in the sculpture garden (which admittedly had far fewer sculptures than I personally was expecting) and the large sculpture exhibitions inside (there were some huge spiders which entertained us both!).  This was not her first experience of modern art. We have previously taken her to the Tate Modern in London where she enjoyed brightly coloured artwork like Mattise's snail. We didn't need to use them this time, but in my past experience museums are often the best places to find baby changing facilities and quiet corners to nurse  (although SFMoma does not actually have a dedicated nursing room).
So which of SF's trendy eateries did we visit that evening, once Justin's conference was over? None other than…California Pizza Kitchen. Not trendy whatsoever. But you know what? We had the best time there. It was child friendly, convenient to Union Square, they had high chairs, crayons and a not-too-unhealthy kids' menu and the wait staff and other customers loved entertaining our toddler. We even bumped into another family S and I had met earlier in the day. So now you know! Sometimes, the uncool places are the best.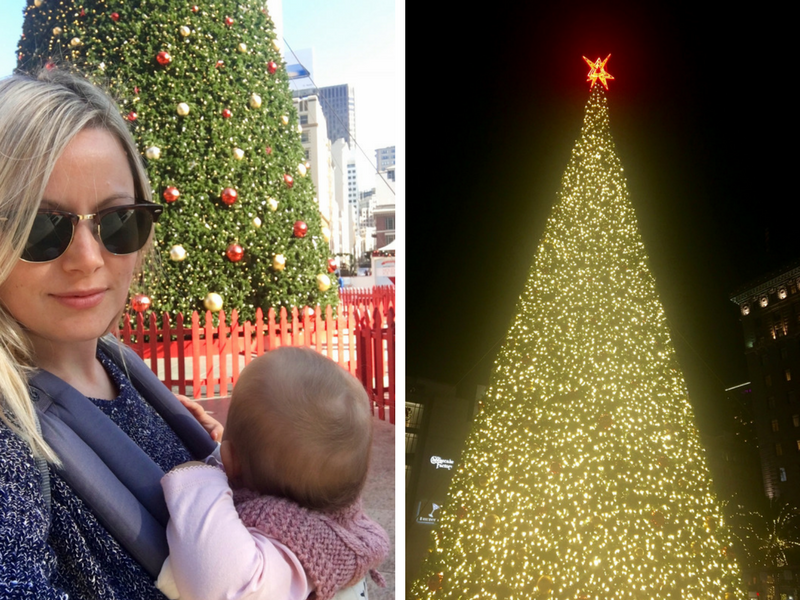 On the way back to the hotel we stopped to see the Christmas tree in Union Square and all the twinkly lights. Little S absolutely loved all of this. She was fascinated by trees and lights this past holiday season. There was also an ice skating rink that I'm sure she would have loved if she was older.
Day Three- Chinatown, Willy Wong's Playground
The December weather was absolutely beautiful for our whole trip. Blue skies and crisp air, chilly enough to wear our cosy knits but not too cold to enjoy being outside. On our third day I popped Sienna in the Ergo again and off we went for an early walk around San Francisco's Chinatown (just north of Union Square). We walked though the fancy downtown shopping streets until we reached Dragon's Gate on the corner of Grant Avenue and Bush Street.
From Dragon's Gate you can head off on your own little tour of Chinatown.  The main streets were full of tourist trinkets, but once I wandered down some of the smaller streets it really did remind me of being back in China. I loved the little restaurants all full of elderly people having breakfast, laundry hanging in alleyways and the sounds of Chinese language wafting in the air. It was mostly Cantonese (which I don't speak), with a little bit of Mandarin here and there (which I..also don't speak..much).
The area was originally home to Chinese dock workers and is one of the hilliest parts of San Francsico. That didn't deter me from walking all the way down to get a coffee at the Sansome Street Blue Bottle and then back up a huge hill to Willy Woo Woo Wong's Playground. The colourful, neighbourhood playground is named after a Chinese- American basketball player. It reminded me of urban, American playgrounds I saw on Sesame Street when I was a kid back in the UK. While we were there, a group of children from a local bilingual Cantonese-English preschool arrived and had fun making friends with Little S. It was a great little stop.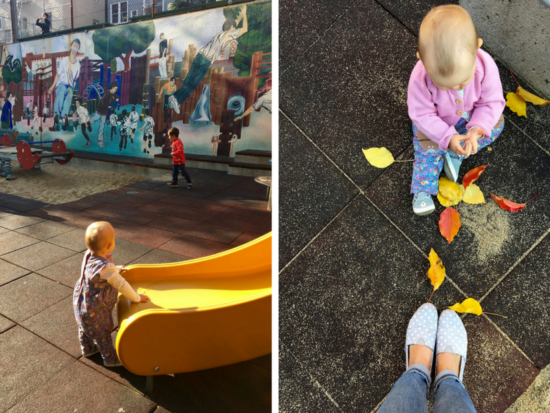 (Later on I did a bit more research about SF's Chinatown and learned about it's origins, the cramped conditions many families still live in and how the area is changing. This is an interesting article if you want to read more yourself).
After a morning of walking, playing and exploring, the afternoon was for rest. Some people might think they can't do as much as they want with a kid in tow. I just relish the relaxation time! I grabbed lunch at Jane's on Larkin and took it back to the hotel to eat while S napped. The cookie was particularly delicious!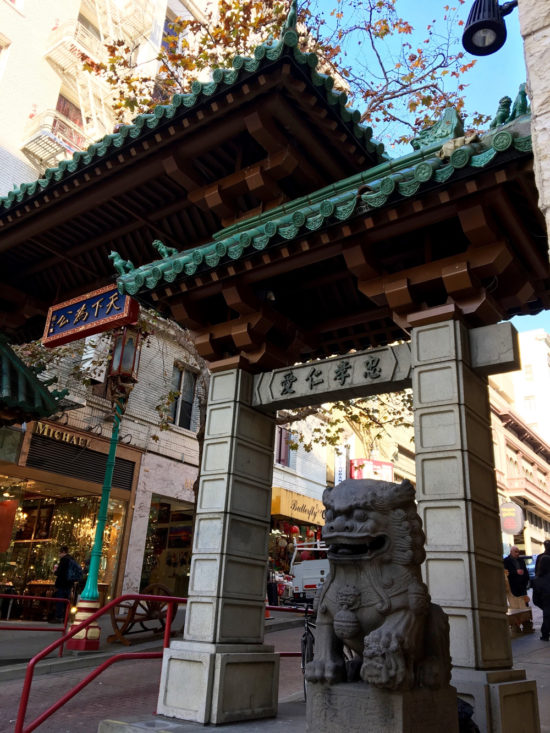 That evening we we went for a more interesting SF dining experience at Tacorea: a Korean- Mexican fusion where the burritos and quesadillas are stuffed with tater tots. While it was a little greasy, I wouldn't say no to having it again occasionally under the right circumstances (mildly hungover with a "hair of the dog" beer seems like it would be the right situation).
After another quick stop at the Christmas lights, we were tucked up in bed, ready for our flight home the next day. It was the end of our first trip to San Francisco with a toddler and it was a good one.
So there you have it- what we did in three days in San Francisco with a one year old toddler. What did you think? Have you been to San Francisco? Do you want to try tater tot stuffed quesadillas? What age do Korean kids start eating Kimchi? Let me know in the comments! 
Pin It For Later
Thank you for reading. If you liked this, you can sign up to receive updates by entering your email below. Or follow my Instagram here. ♥
This post may contain affiliate links. If you make a purchase after clinking on a product link, I may receive some commission at no extra cost to you. Thank you for reading Paper Crane Stories.