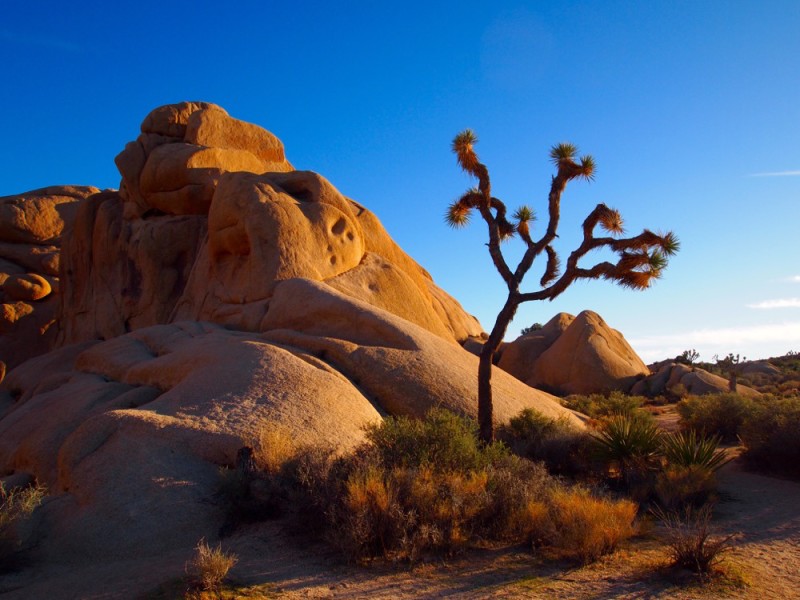 Remember when we used to use books and maps to plan travel, instead of the internet? Remember when we used to use free time to write in our travel journals instead of instagram the latest awesome thing we did? And when we used to travel without chargers, just a battery operated camera?
No? It's quite possible some people don't remember this at all, as it's so common to travel with multiple electronic devices and chargers these days. Or perhaps some people are reading this and thinking I'm a fool and they still reject email, using postcards as their only method to contact home.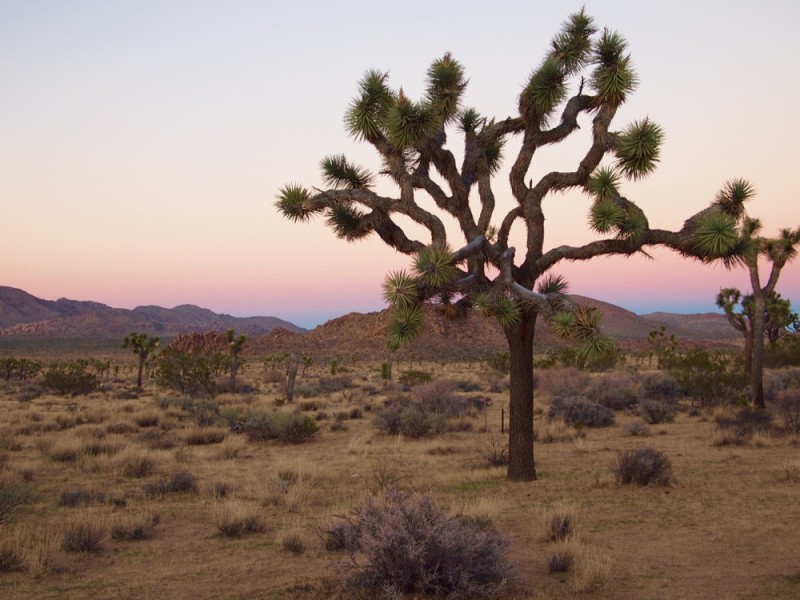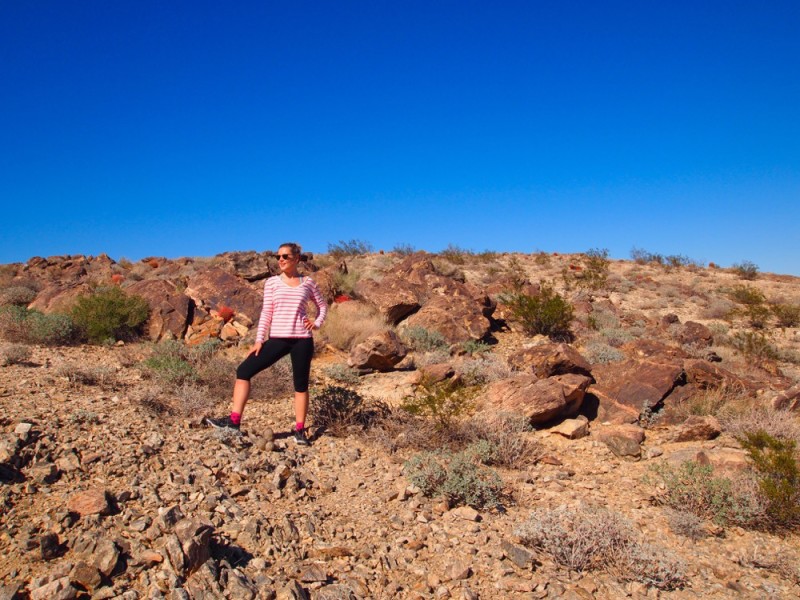 I grew up somewhere in the middle of the technological revolution.  Yes, we already had email when I first started independently travelling/living overseas post-university in 2006, I think I even had a Myspace account, but Facebook was not yet open to the general British masses and, for most people, the only way to connect to the internet was in an internet cafe. I'm not saying that was better, I love having an iphone  Google 5x (just got rid of my iphone4! I keep my electronics for a looong time!) and being able to instagram and use google maps whenever I need to, but sometimes it feels a bit much.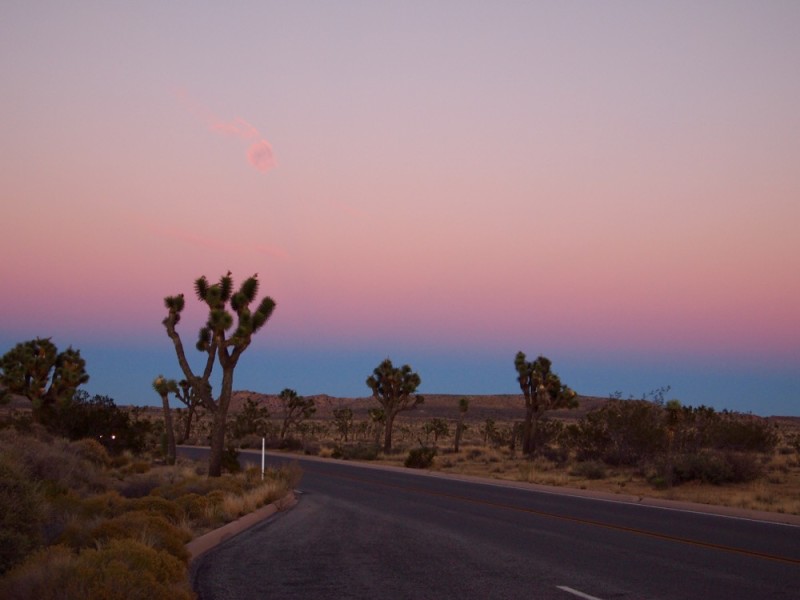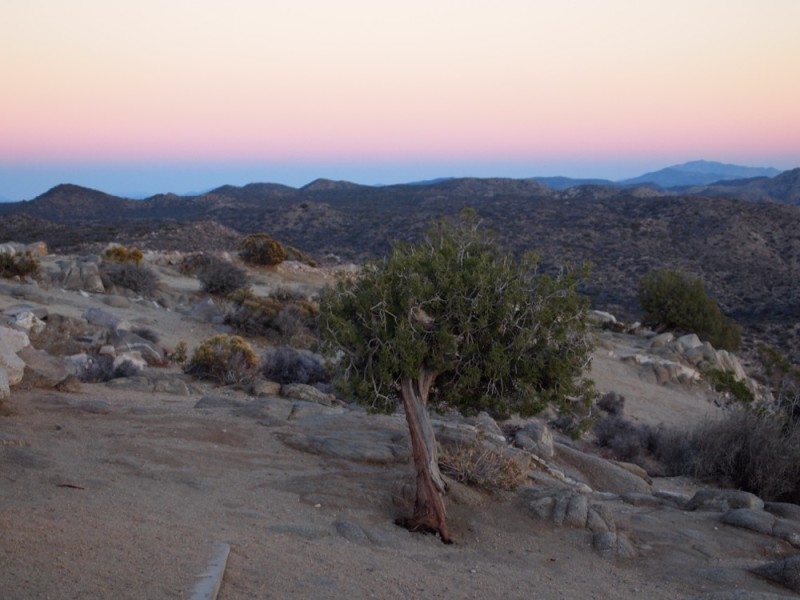 Let's Unplug
With this all in mind, Justin and I decided to head out to Joshua Tree for a long weekend of hiking and avoiding technology. No google maps, no mindlessly scrolling through Instagram to fill time, no googling hiking routes or things to do. We used our Southern California Lonely Planet and got a book from the local library called 50 Short Hikes in California Deserts (published in 1995). We also bought a California road map and got a Joshua Tree map when we bought our park pass.
Unfortunately we didn't end up being quite as unplugged and into the wild as we had hoped. We hadn't anticipated the clocks going back, dark setting in at 4.30 and night time lows reaching near freezing. The campsites were full and it was a bit daunting for these SoCal beach bums to wing it, so we opted for a cheap motel by the park entrance instead.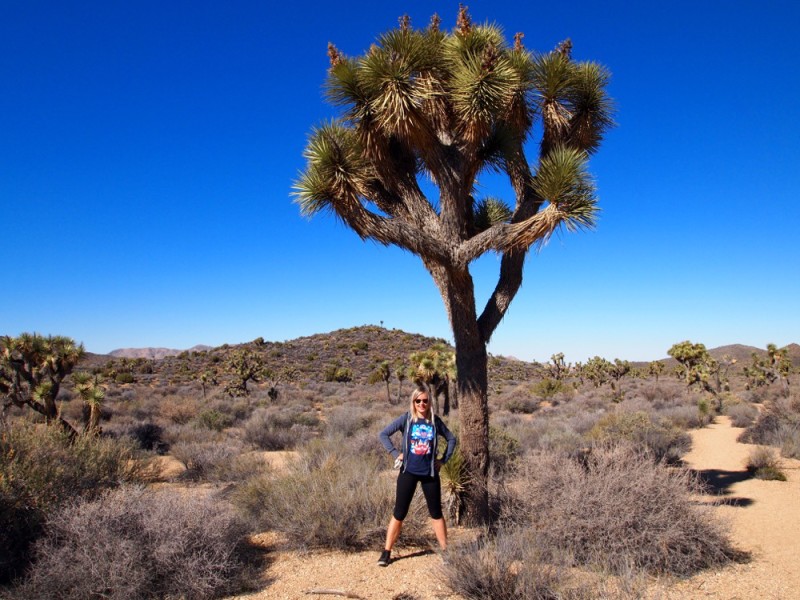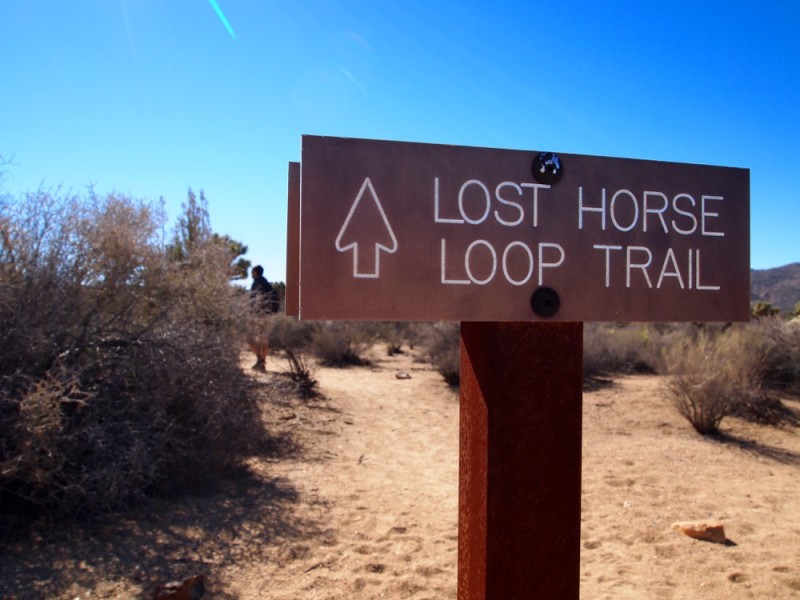 Artsy Joshua Tree Town
I think one of the things that comes with being British in the US, is that I am just fascinated by the amount of space that exists. Of course there are plenty of crowded cities, but once you get out to the desert you begin to appreciate how vast and big this country is. I love driving through the tiny little offbeat towns and imagining what kind of people would choose (or be forced) to live there.
Joshua Tree was a real surprise. It mostly consists of a short strip of highway containing a few restaurants and shops. But those restaurants and shops all have real character. There's the Country Kitchen run by an amusing Asian husband and wife double act and decorated in all kinds of buddha statues, American flags and interesting photos. There's the tiny hipster coffee place with hand roasted coffee beans next door to the yoga studio and the New York pizza cafe. There are the neighbourhood coyotes who prowl at night and the RV vans full of offbeat families with dreads. I think it must be one of the most interesting small towns I've been to yet.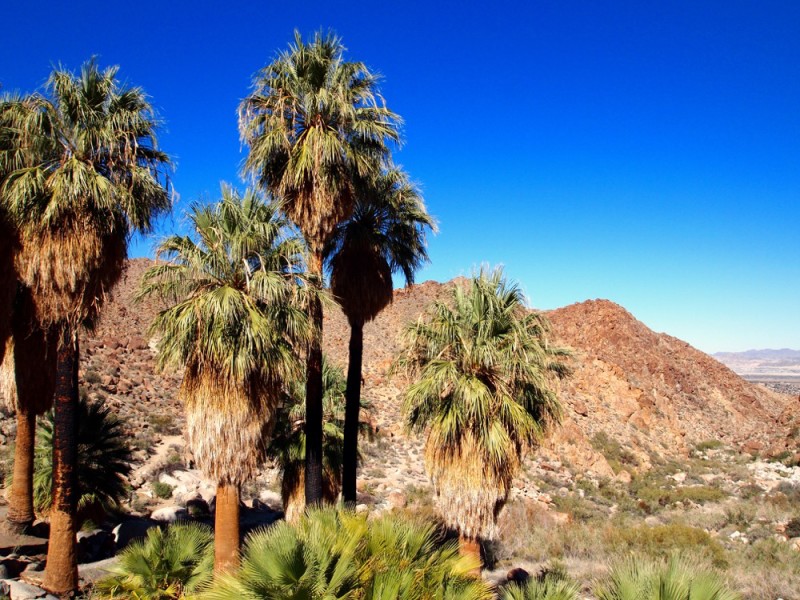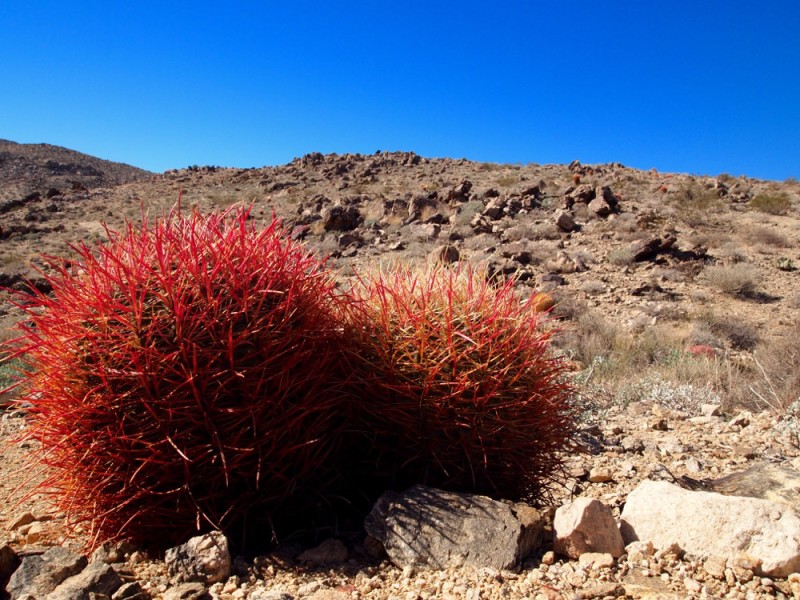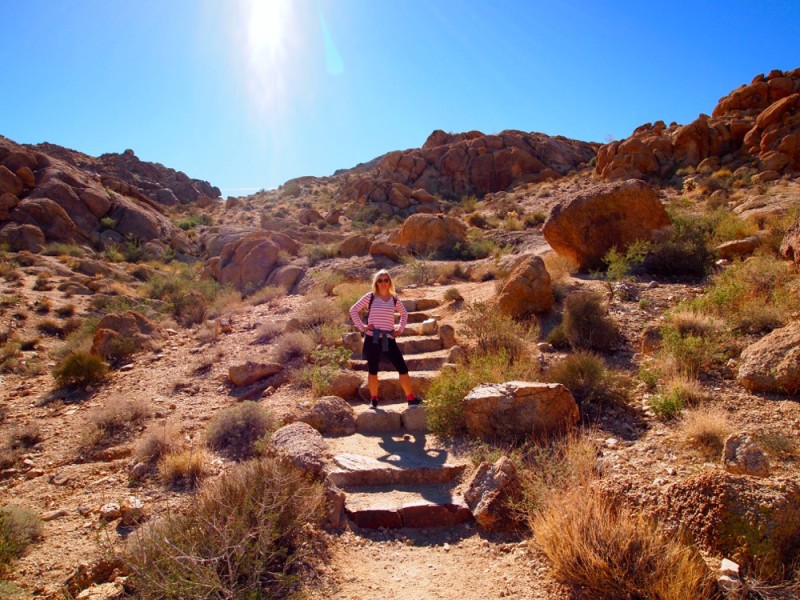 Beautiful Joshua Tree National Park
The Joshua Tree National Park was absolutely beautiful.  In fact, I don't think these photos can even do justice to the place. The main forest of Joshua Trees is near the West entrance (where we stayed). It's fascinating seeing them all growing together like this and hard to describe how magical it feels. Then there are the huge boulders- natural formations which you are welcome to climb on. Not to mention the old mines, the cactus gardens and even an oasis or two .We did a 6 mile hike and a 3 mile hike, as well as just driving around the park and stopping to walk around or climb boulders whenever we felt like it.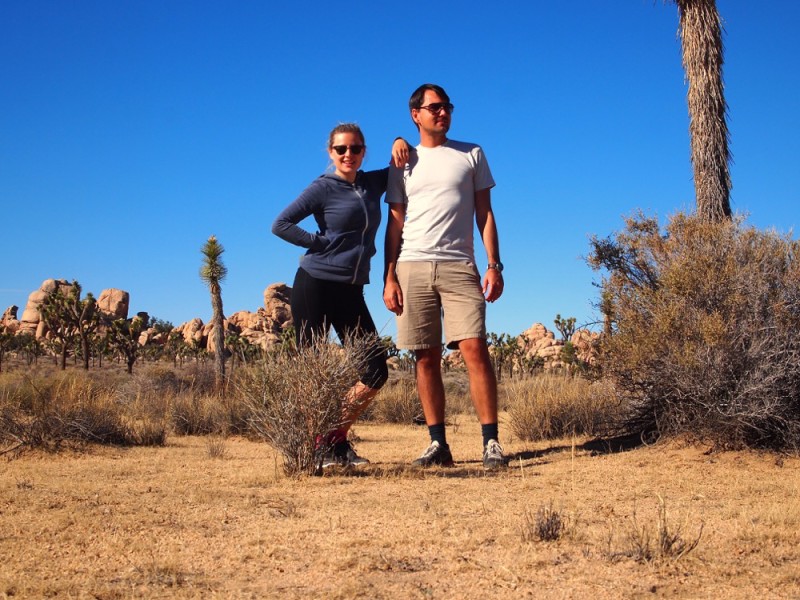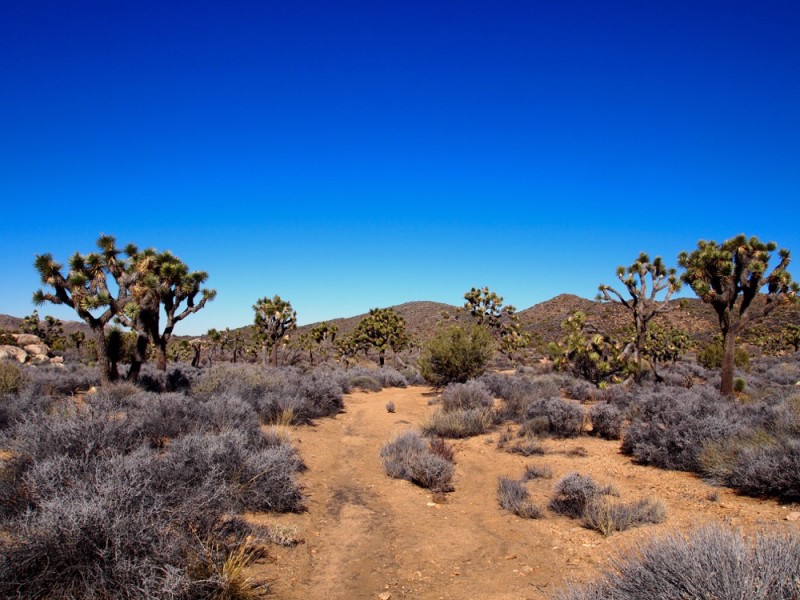 Sunsets and Stars
One of the best parts of Joshua Tree National Park is the sunsets! Unlike when we watch the (also beautiful) sunsets at our local beach, at Joshua Tree we were completely enveloped in the warm colours. The Joshua Tree Sunsets are some of the most colour rich and all consuming I have ever experienced. In one direction the sunset was pink, in the other it was orange.
The other amazing thing to experience in Joshua Tree National Park are the stars. Once the sky was fully dark, we looked up to the most incredible display of stars and galaxies. The only other time we experienced a starry night show like this was during our time with the Tibetan Nomads.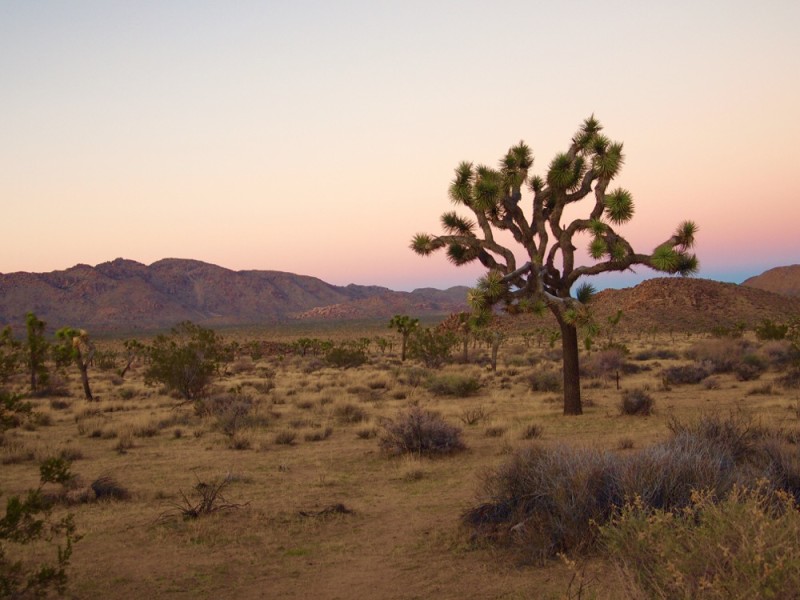 Wildlife
Despite being a desert, there is a whole lot of wildlife at Joshua Tree.  We got a really good close up view of a coyote (while in the car, fortunately), saw ravens and other birds, lizards, rabbits and Justin even spotted a tarantulas seeking heat near the road. We really wanted to catch sight of one of the elusive Big Horn Sheep. We did, but unfortunately it was a very sad occurance as the sheep was dead. There was a park ranger there with his van so we didn't stop to find out what had happened, but we think it must have jumped out into the road  that runs through the park and been hit by a car. Next time I want to see a tortoise, a bob cat or a mountain lion- all of which also live in the park!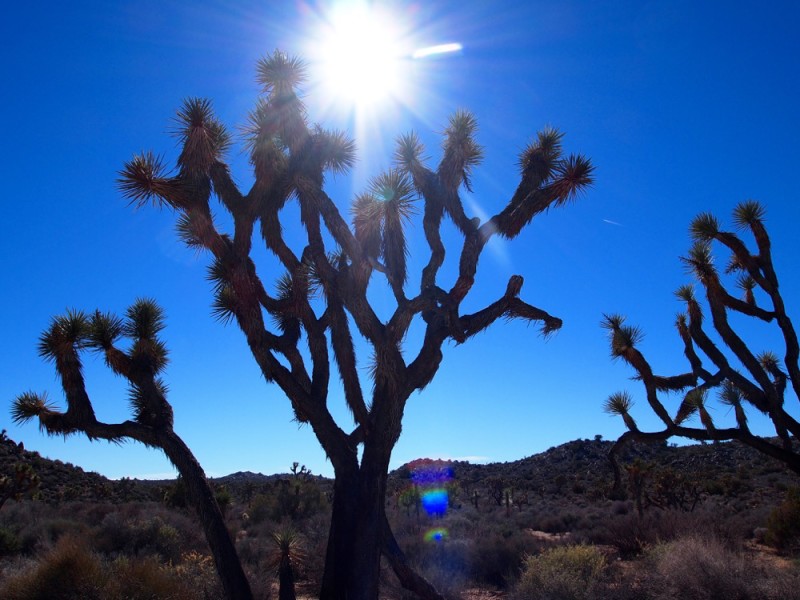 On Being Unplugged
Was being unplugged from all my technological devices (other than my camera) life changing? No, not for just a few days. However, it was definitely enjoyable. I still use guide books anyway, but it was refreshing to use only them and to not have researched or looked at photos online before. I have a bad habit of randomly scrolling through my social media accounts while waiting for something, or even while watching a film or TV.  It was nice to live simply and focus on one thing at a time.  I also enjoyed looking at our route on a big road map and seeing how it panned out. I often fall into the role of  using Google maps or Waze to navigate while Justin drives, which leaves me looking at a screen instead of focusing on the journey. I always prefer to have looked up a route in advance and know where I'm going and the scale of the journey. I don't feel like you get the same experience when you are listening to a voice tell you to turn right, turn left…
I wouldn't say Justin and I are technology addicts, we still do a lot of outdoor activities, read books and spend time away from our screens. But this trip highlighted to me how I often use technology unnecessarily without even thinking about it. I definitely want to go back to taking more trips without using any technology at all- especially outdoors and camping trips.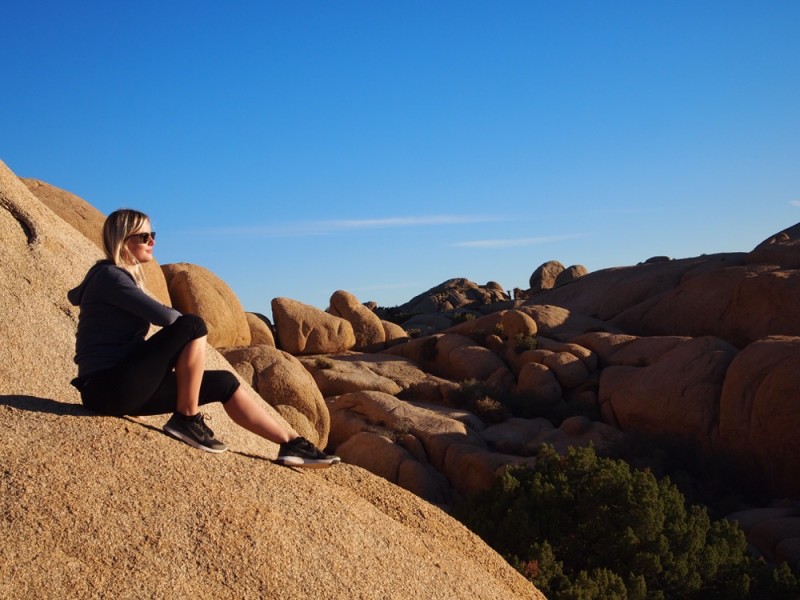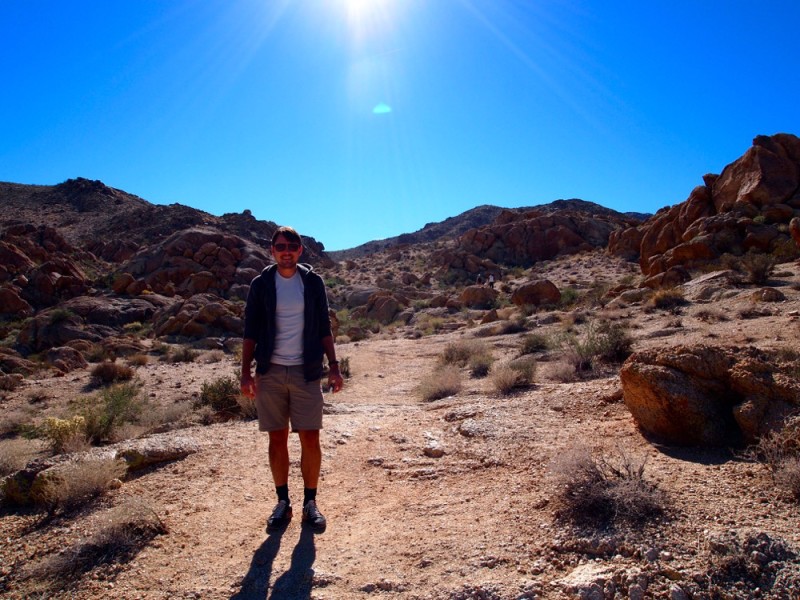 I Heart Joshua Tree
Rather than learning something deep about my technology use, I actually learned how beautiful the desert is. Joshua Tree (both the park and the town) are definitely now high on my list of favourite places. We'll be sure to make use of our annual pass!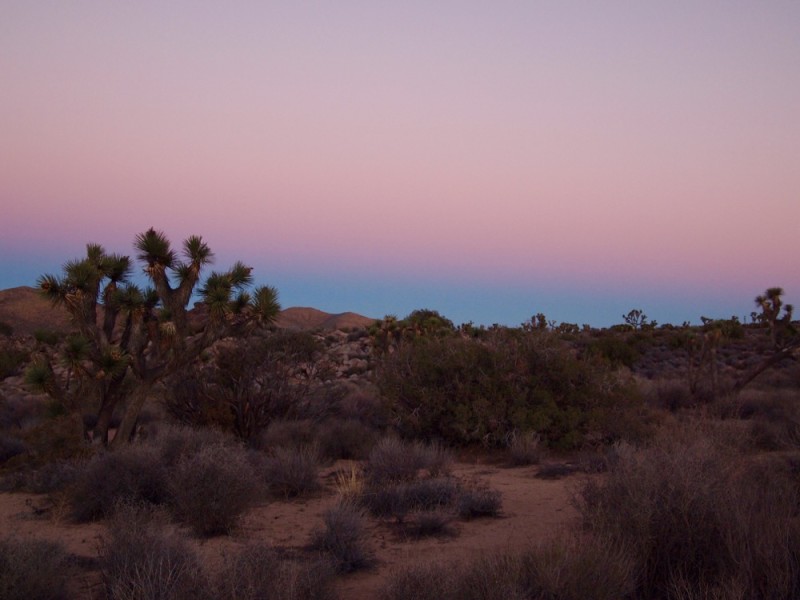 We were in love with Joshua Tree National Park from the moment we arrived. We bought an annual pass as we know we'll be back again soon- a bargain at $30. If we visit any other national parks in the next 12 months we can pay the difference to upgrade to a country wide national park pass too, which is a really great deal!
We stayed in the Safari Motor Inn which was very basic but perfectly adequate for a couple of hikers. The owners are also absolutely lovely people and really helpful and friendly.
Pin It For Later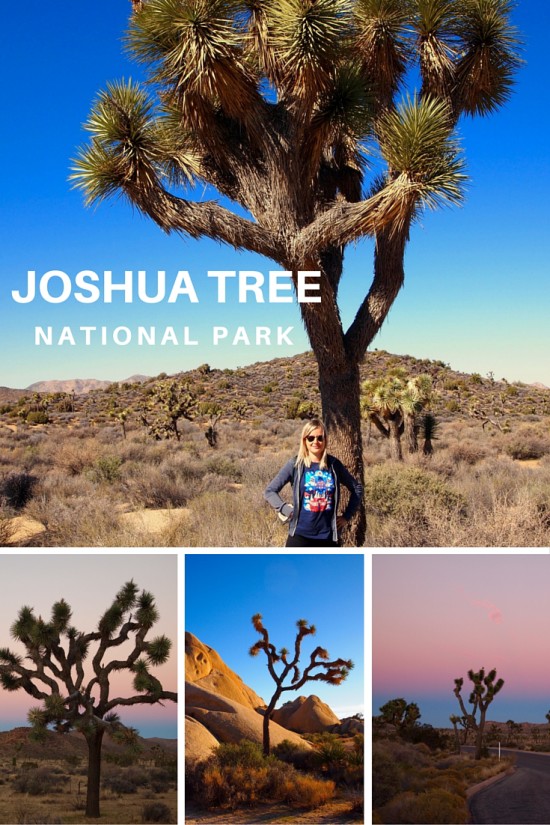 What do you think of Joshua Tree National Park- have you ever been? And what about your technology use- do you barely use it or could you do with being unplugged for a while? Let me know in the comments below.
If you liked this, you can receive updates by email below. Or follow my Instagram here. ♥