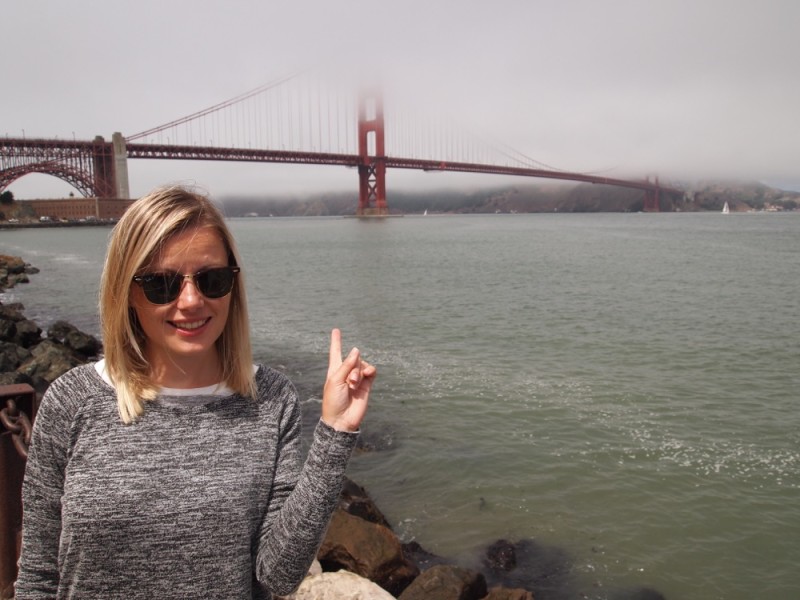 In 2007 I went to San Francisco for the first time. I was travelling by myself; I'd just left South Korea (for the first time- we would return for another stint later) and I was on the way to work and live in Venezuela for a while. Most importantly, I was on the way to be reunited with Justin.
The journey from Seoul to Caracas is long and I decided to break it up with a 4 day stop in San Francisco. It was certainly not the first time I'd ever travelled by myself, or even the first time I had been to the US alone, but San Francisco made a real impact on me. I spent 4 days in a hostel near Union Square, checking out the touristy sites, shopping for a few new clothes (it's hard to believe after my most recent trip, but South Korea didn't have any of the popular international shops like H&M and Zara back then!) and hanging out with the girls from my dorm room.
I made the most of my jet leg and enjoyed waking up at the crack of dawn to have the city to myself. The first morning I was there, I decided to hire a bike and ride over the Golden Gate Bridge. Not really knowing the tram routes, I took my hostel map and walked. I waked through China town and watched elderly Chinese- Americans practise Tai Chi (little did I know I'd be watching my own neighbours do this when I moved to China 6 years later), I walked up and down hills and I revelled in the freedom of exploring a brand new city by myself (and all with a paper map. I didn't have google maps back then!).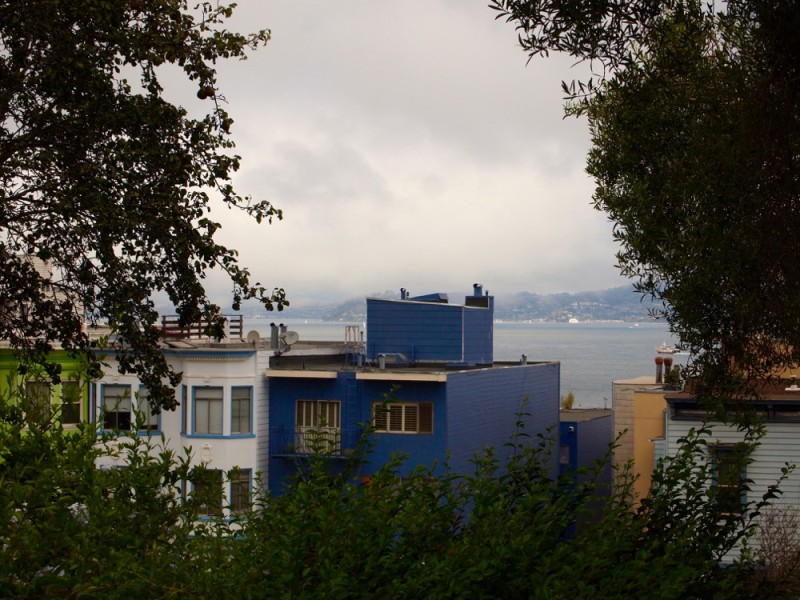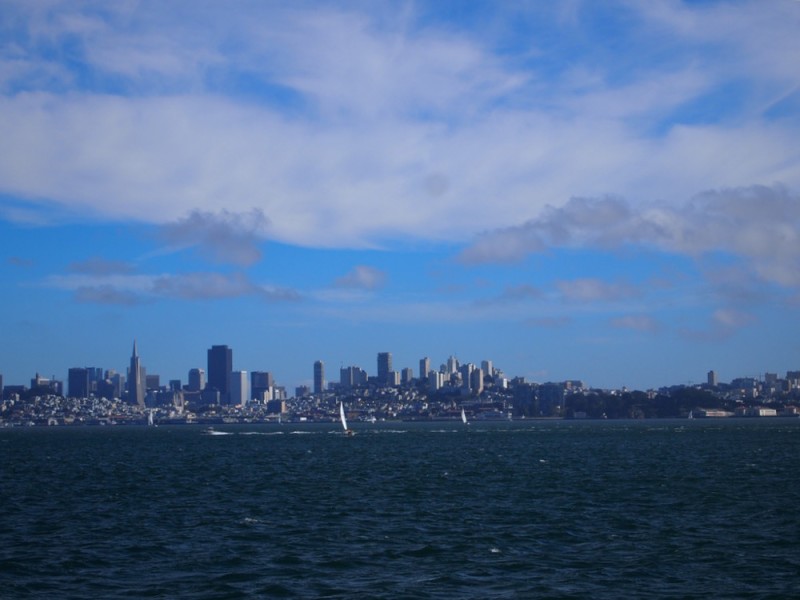 The ride over the bridge was exhilerating and I arrived in Sausalito on a very quiet, early weekday morning. I enjoyed a coffee in a local cafe and continued my ride. Coming from Asia, Sausalito seemed so different and quaint. I loved drinking coffee in a small cafe and looking at the the houses on the side of the hills. I got lost and found my route again and, eventually, after about 18 miles, took the furthest ferry back over to San Francisco.
This time round, things were different. I was far from alone as San Francsico was the last stop on our road trip. We had a fun first night there with Tamsin and Guido and some of their Dutch friends, easting Thai Food and watching a baseball game (though obviously, I was not cheering the Giants, being a Dodgers fan!). The second day I wanted to recreate that special trip I had had 8 years ago.
This was a mistake. It could never be the same.
The Golden gate bridge  was extremely foggy when we cycled over it and we couldn't see anything, there were no pretty views like I had last time.  It was a busy August Saturday and Sausalito was packed with tourists. We left late and  had to get the closer ferry back rather than doing the really long bike ride. I felt kind of frustrated. I had fun but I felt like I was letting Justin down- that this place wasn't how I had described or remembered it and he wasn't getting the same experience as I'd had before.
But in the end, it was all ok. We had a good lunch in Sausalito. The sky and sea turned a beautiful blue. The ferry back took us right by the eery island of Alcatraz (last time the ferry route I took passed much further away) and we had a good laugh. "Look behind you", I said to Justin as we bobbed past Alcatraz. He turned around and there were about 80 people pushing up behind him, holding their cameras and selfie sticks high above their heads trying to take photos. It was almost like being back in China again!
One of the best parts of the day was Justin found a fantastic vegan Japanese restaurant for  dinner. We love Japanese food, especially after our recent trip there, and the food here in San Francisco was delicious. It's called Shizen Vegan Sushi Bar and Izakaya if you want to check it out.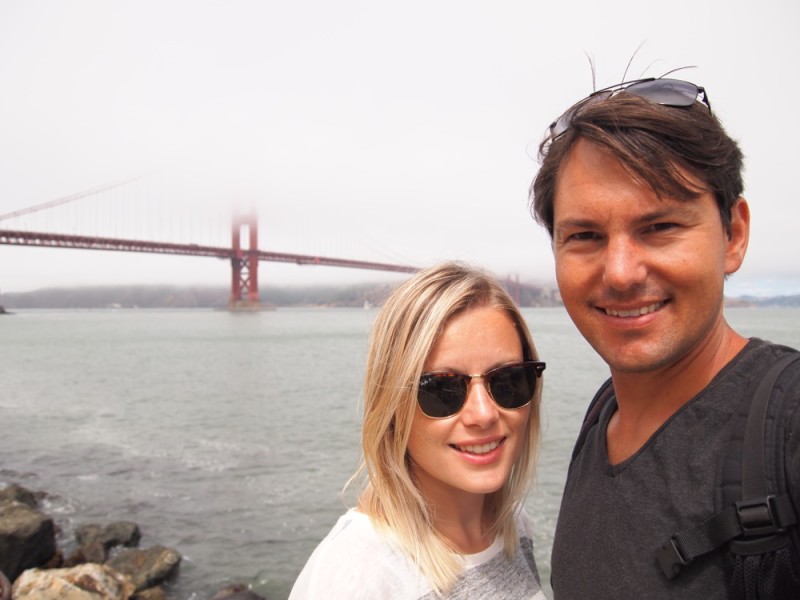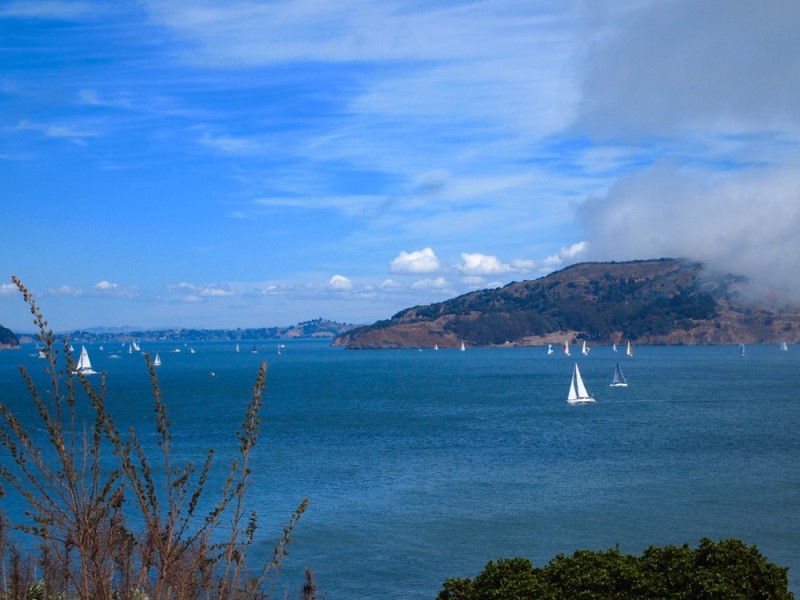 Lessons In Travel
I learned that you can't recreate a trip again. It's great to revisit a place you love (just like when we revisited Korea for a couple of weekend trips, while living in Beijing ) but you can't expect it to be the same. You need to find new things to do and it's not worth pressuring yourself to have the same experience. Every trip is different. My first time in San Francisco was special because I was 22, alone and embarking on a new adventure. This time was special because it was the end of a road trip with Justin, Tamsin and Guido and was at the start of me and Justin living in California.
Tips For Revisiting A Favourite Place
If you have beloved or nostalgic memories from a previous trip, don't put pressure on yourself to relive it.
It's fine to do some of the same things as your last trip, but find new activities or restaurants too.
If you did a lot of touristy things last time, choose some more off beat activities or different neighbourhoods to visit.
If you're in a pair or group and one of you has been before, let the other person/people choose the activities and restaurants they want to try.
I still had a great time in San Francisco and I learnt some important travel lessons! I've no doubt we'll be back in San Francisco again sometime and I can't wait to see what new things we try!
Pin It For Later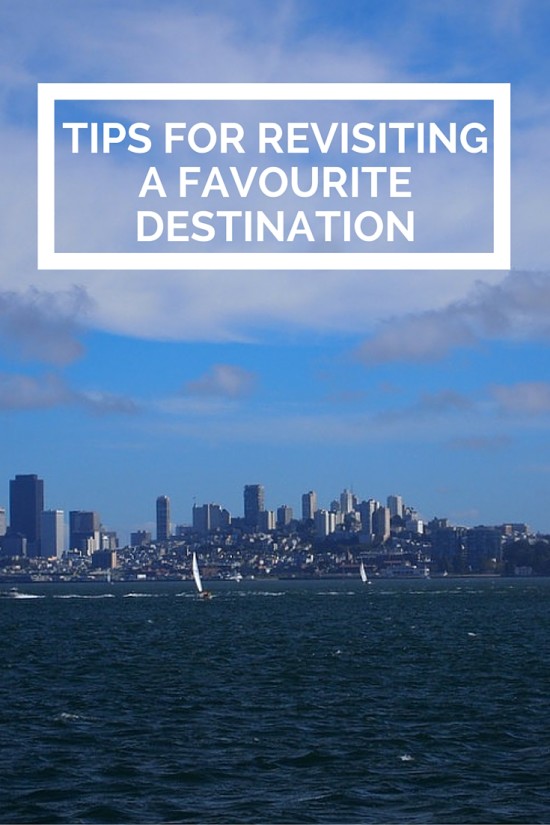 So, what do you think? Would you revisit a favourite destination? I'd love to hear about your own experiences in revisiting places- let me know in the comments below. ♥
I love having you read my blog. To stay up-to date with blog posts, sign up with your email below. Thanks for reading ♥